New Acer Swift 3 ultraslim laptops offer Intel and AMD options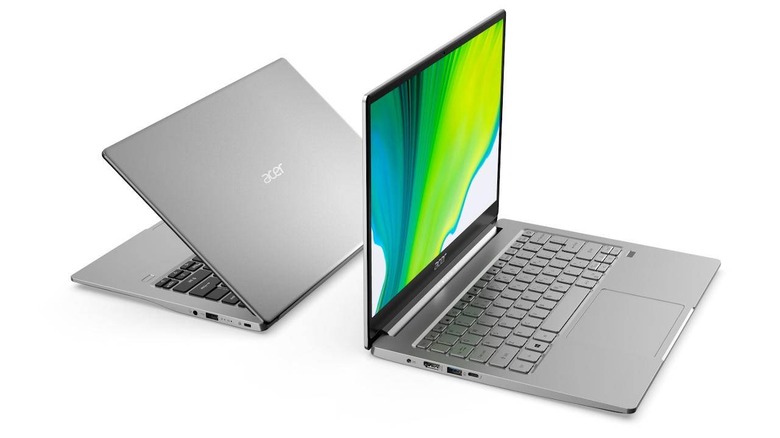 For quite a few years, most of the new computers came out with Intel inside, mostly because of a lack of serious competition. With AMD's new Zen architecture, Intel's old rival has gotten back into the game and OEMs have once again started putting AMD processors right beside Intel's. That definitely seems to be the case with the new Acer Swift 3 series but while consumers may be able to choose between two competing processors, they aren't able to choose what comes with those.
Acer's own wording makes it pretty clear if not subtle. The Acer Swift 3 SF313-52 is pretty much its flagship model despite being smaller than the other. In it, however, beats a 10th gen Intel Core processor along with 16 GB of LPDDR4X RAM. And that smaller 13.5-inch screen actually boasts of a higher 2256x1504 resolution, giving the laptop a 3:2 aspect ratio.
Acer advertises up to 16 hours of battery life, which is often too generous a number of Intel-based computers. Despite the lightweight design, only 2.62 lbs (1.19 kg), is equipped with a bevy of high-end features, like a fingerprint scanner for Windows Hello authentication, Wake on Voice for using Cortana even while the laptop is suspended, and support for the latest 802.11ax, a.k.a. Wi-Fi 6, standard.
In contrast, the Acer Swift 3 SF314-42 is positioned as a "balance between style, power, and efficiency", which is often the honey-coated phrase for more power-efficient and less intensive performance. The notebook ditches the Intel for an AMD Ryzen 7 4700U, also with up to 16 GB of LPDDR4X memory, and Radeon Vega 7 graphics. The 14-inch Full HD laptop may not have a fingerprint scanner but it at least gets the same Wake on Voice feature.
The pricing also hints at which of the two Acer considers more premium though prices don't always equate to quality and real-world performance. The Acer Swift 3 SF313-52 with Intel processors will launch in March for $699 while the Acer Swift 3 SF314-42 with AMD will come later in May for $599.