Netgear Stora 1TB home NAS arrives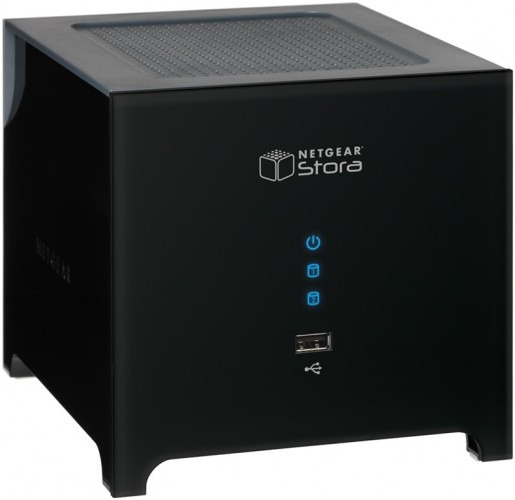 Netgear have unveiled their latest home storage device, the Stora, which the company is positioning not only as a NAS backup but as a media-sharing hub.  The Netgear Stora takes two 3.5-inch SATA drives and connects via gigabit ethernet; there are also two USB 2.0 ports for sharing printers or plugging in external drives.  What makes it special, though, is its social network and device integration.
The Stora can be set to automatically upload images and video to Facebook and Flickr, as well as beaming them around the house courtesy of DLNA streaming.  That means content shows up on PCs and Macs, together with consoles and PMPs.  Netgear have also apparently made remote streaming more straightforward, so you can access media while outside of the home network.
It's basically an entry-level NAS with some nifty software, and Netgear are hoping to bypass the geeks and get straight to data-loaded home customers.  No talk of RAID, therefore, only "drive mirroring" if you slot in an (optional) second disc, and there's easy backup setup.  The Netgear Stora is available now in the US for $229, complete with one 1TB hard-drive (the second bay is empty); that also gets you thirty days trial of social networking integration and remote access, after which it's a $19.99 yearly subscription.
Press Release:
NETGEAR's Stora Brings Easy-to-Use, Internet-connected Storage to Consumers Everywhere

New Storage Device with Remote Access Enables Home Users to Share Photos with Friends without Uploading to Internet Sites

SAN JOSE, Calif. – September 21, 2009 – NETGEAR, Inc. (NASDAQGM: NTGR), a worldwide provider of technologically innovative, branded networking solutions, and network storage leader in the business and prosumer market with its ReadyNAS line, today announced NETGEAR Stora, a new, easy-to-use network attached storage (NAS) device for home media. Stora enables consumers to easily centralize photos, music, movies and files and use them on nearly any network device. With a smooth user interface designed for non-technical users, Stora lets consumers easily share their photos and videos with friends without the time-consuming process of uploading them to Internet sites or transferring them over email. Through an intuitive and graphical user interface on www.MyStora.com, users and their designated friends and relatives can remotely access their media files from any Internet-connected device, such as laptops, PCs and smartphones.

"We strongly feel that Stora exemplifies the next-generation of consumer storage devices," said Drew Meyer, director of marketing for NETGEAR's Network Storage Business Unit. "NETGEAR has already made its mark in the business and prosumer market with our ReadyNAS line, but Stora is most definitely a platform for everyone. Stora gives users the features they need today with a consumer-friendly user interface and price point, making their media available to them and their designated friends and families anytime, anywhere — even on mobile smartphones. It truly sets a new bar for the consumer network storage market."

Store: Compatible with Mac, PC and Linux systems, NETGEAR's Stora puts music, movies, photos, and files at the heart of the home network, centralized in a single, safe location.

Share: With remote access via www.MyStora.com, Stora enables cross-platform file sharing, music listening, movie watching and photo sharing from any Internet-connected device. In addition to sharing files over the web, users can also share photos, videos and files between home computers and home media players. Stora can centralize music collections and play music through iTunes. It can also automatically integrate content with remote photo frames and social networking sites such as Facebook. Stora can also serve content to other networked devices such as Digital Living Network Alliance (DLNA)-enabled photo frames, XBox 360 and PlayStation 3 game consoles, and iPhone and Blackberry mobile phones.

Protect: With two standard drive bays that automatically mirror data, Stora offers plug-and-play protection that safeguards valuable data. Users can simply add a second drive, on the fly, without any tools. Stora also comes with automatic backup utilities for PCs and Macs, so individual system content is backed up regularly.

"Today's consumers face a conundrum when trying to manage newly acquired or created digital content among various computing devices inside and outside the home," said David Reinsel, group vice president of IDC's storage and semiconductor research groups. "Historically, personal storage devices have proven competent at providing reliable storage capacity and data protection within the home, but not always accessible from outside the home or across multiple devices. With this new product, NETGEAR looks to solve these common problems for consumers."

NETGEAR Stora (MS2110) comes with a 1 TB disk and one extra drive bay that can be used to insert an optional disk for mirroring. The product is immediately available through selected North American retail and e-commerce stores. Stora will be available from leading European and Asia Pacific retail locations in approximately two weeks. Stora is backed by a three-year warranty and 24/7 technical support and the Stora (MS2110) model has an MSRP in the U.S. of $229. An optional yearly premium service, to support additional remote access and third-party service integration such as Flickr and mobile phones, is available for $19.99 after an initial 30-day trial period.