Netgear ReadyNAS Duo v2 Review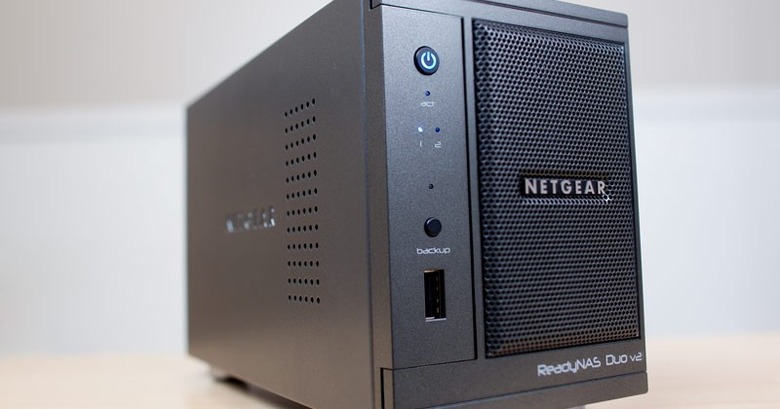 With the home backup and media server market heating up, a box full of drives and a link to your router is no longer enough. Netgear's ReadyNAS Duo v2 takes the dual-drive shell of its first-gen predecessor and then makes upgrades to processor, software and more, arriving at an affordable backup station that also offers media streaming, remote access with smartphone apps and more. Read on for the full SlashGear review.
Hardware
Netgear's chassis is sober but sturdy, with a blocky metal casing that's larger than some rivals thanks to its use of regular 3.5-inch desktop hard-drives rather than smaller – generally more expensive and lower capacity – 2.5-inch mobile drives. Up front there's a USB 2.0 port with a dedicated "backup" button that pulls the content of any removable storage plugged in off and to a preset folder, along with a power button, activity and drive lights.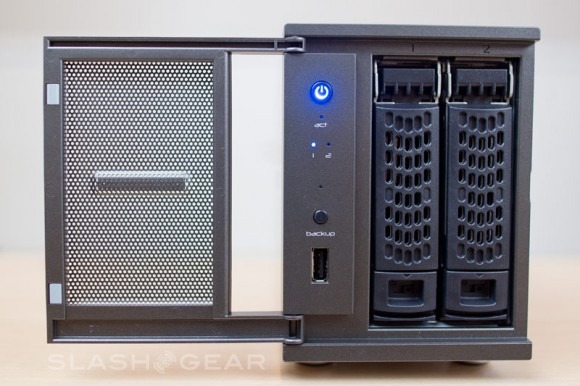 As the Duo name suggests, this particular ReadyNAS supports a pair of HDDs which are hot-swappable. Storage can be set up as either RAID 0 "striped" for speed without redundancy, or RAID 1 "mirrored" for data redundancy but half the capacity. However, extra capacity can be added using the two USB 3.0 ports on the back of the ReadyNAS, a welcome update over the more typical USB 2.0 connections.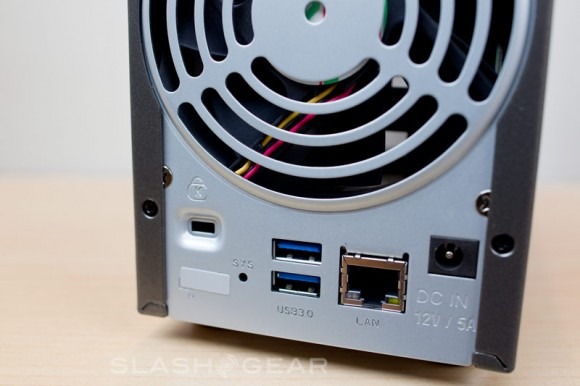 Inside, Netgear has updated the processor to a 1.6GHz Marvell chip paired with 256MB of RAM. The company reckons that makes the Duo v2 twice as fast as its predecessor, with file transfers and higher-bitrate media streaming each said to benefit from the extra performance.
Netgear will offer three versions of the ReadyNAS Duo v2. Cheapest is the empty, barebones shell, intended for those wanting to use their own hard-drives, and priced at $199. Then there are 1TB and 2TB versions – each with a single drive – at $269 and $299 respectively. Our review unit was supplied with two 1TB Hitachi HDS721010CLA332 7K1000.C SATA 3.0Gb/s drives, spinning at 7,200 rpm with 32MB of cache.
Software
Backup isn't really sexy, and so a home NAS needs to be easy to use if owners are going to stick with it through not only setup but taking advantage of the various value-adds Netgear and others throw in. The ReadyNAS Duo v2 gets a double-whammy: Netgear has updated its RAIDiator 5 setup software to reduce complexity, and throws in a three year warranty too. For the first 90 days users get access to 24/7 customer service to help them set the NAS up; after that, three years of 24/7 support and hardware replacement is $99. If that seems too rich, three years of hardware replacement alone – within seven business days of a fault being diagnosed – is $29.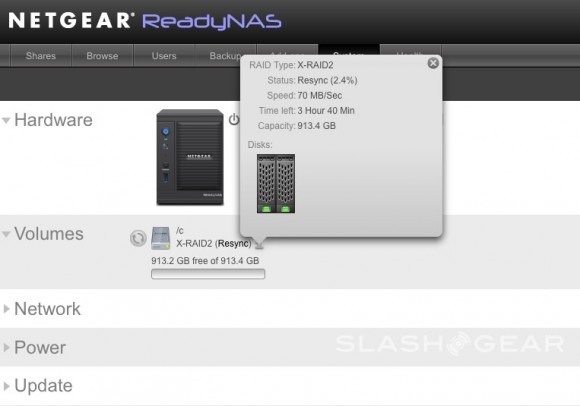 We didn't need to call for help, however, and we doubt most reasonably confident home users would need to either. Once the ReadyNAS boots for the first time, a simple browser-based setup wizard walks you through formatting your drives in either RAID 0 or 1, and then drops you in a straightforward GUI.
As well as access to documentation and Netgear's online support, RAIDiator 5 consists of various panes for setting up user accounts and shared folders, monitoring the "health" of the NAS including temperature and fan-speed, and checking which "Add-ons" have been installed. For most, the latter will consist of ReadyNAS Remote, which allows you to use Netgear's iOS and Android apps to log in from your smartphone, browse through folders and download content, and ReadyNAS Photos II, for hosting your own Flickr alternative directly from the NAS.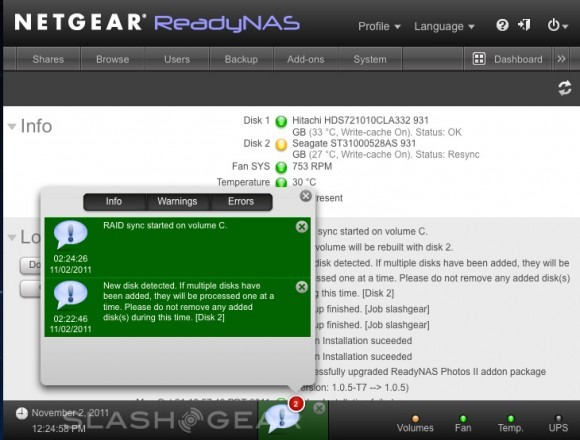 The Remote app works well, though since you're accessing your files from your own "personal" cloud – i.e. through your home broadband connection – the speed at which they filter through to your smartphone (or indeed the standalone OS X and Windows software) depends on your home upload speed. That's less of an issue for photos and most documents, but may make accessing video and higher-bitrate music files a struggle. Still, being able to remotely grab a missing file while you're at the office or in a meeting can be a very useful thing.
ReadyNAS Photos II bills itself as a free, more controllable alternative to Flickr: since the storage is all on your end there are no hosting fees, and it's entirely private. Only those you share the link with can access them, and there are various options for limiting visibility to those with accounts or opening them to unregistered guests.
Finally there's native UPnP/DLNA streaming support, meaning the ReadyNAS Duo v2 can send multimedia across your network to an Xbox 360 or PS3, your digital TV set-top box streamer, iTunes, SONOS kit or Logitech's Squeezbox platform. Netgear has over 100 different Add-ons – some of its own creation, others from third-party developers – to download, allowing owners to enhance the capabilities of their NAS. Power users may prefer the more advanced "desktop" layout of Synology's DSM software, which allows multiple add-ons and other windows to be seen simultaneously, but home users will likely find the simple panes of the Netgear interface easily navigable.
Performance
We started off testing the ReadyNAS Duo v2 with a single drive installed. Transferring a single 5GB file to and from the system saw 36.5 MB/s write rates and 100 MB/s read rates. Transferring 5GB worth of 20MB files saw write speeds stay the same, at 36.5 MB/s, but read rates dropped to 85.6 MB/s.
We then installed the second drive in a RAID 1 "mirroring" array, which basically provides drive redundancy. With the 5GB single file, write speed rose slightly to 39 MB/s, though read speed dipped to 94.4 MB/s. For the 5GB of 20MB files, writes took place at 36.2 MB/s and reads at 84.8 MB/s.
Finally, we used the two drives as a RAID 0 "striped" array, which bypasses data redundancy in the name of speed. In this setup, the 5GB single file wrote at 41.3 MB/s and read at 90 MB/s, while the 5GB of 20MB files wrote at 40 MB/s and read at 79.4 MB/s.
Given the relative price and capacity of 3.5-inch drives (compared to 2.5-inch drives) we'd recommend most home users opt for RAID 1 with as big a pair of drives as they can afford. That will provide the best balance of data security and speed.
Wrap-Up
Persuading home users to invest in backup can be difficult, and so the Netgear ReadyNAS Duo v2's sub-$200 – albeit drive-free – sets the NAS off to a good start. The company's home user focus extends to the straightforward setup and the reassurance of the helpdesk support, and those looking for more sophisticated functionality, such as remote access, can have that too thanks to the iOS and Android apps.
The only real potential pain-point is the speed, with the ReadyNAS Duo v2 falling behind what we saw from the Synology DiskStation DS211 (With Diskstation V3.x). Still, Synology's barebones DS211 is around $100 more expensive than the Netgear, and for general backup and media access many home users won't particularly notice the difference.
Compromises, then, but acceptable ones when you consider the overall package. Small business and more advanced home users may want to look elsewhere where more expensive NAS offer stronger performance, but for its balance of usability and accessibility the Netgear ReadyNAS Duo v2 hits the consumer spot.