Network equipment expert NETGEAR is once again trying to claim an "industry first" title. With the Nighthawk X6 AC3200 (R800), it is unveiling the first Tri-Band router to hit the market, promising to deliver to home users the best WiFi band compatible with their device, whether old or new, and adjusted for their particular needs.
What does this Tri-Band part really mean? According to NETGEAR, the Nighthawk X6 supports one 2.4 GHz WiFi band and two 5 GHz bands. In theory, this delivers a total WiFi speed of 3.2 Gbps. In practice, however, devices won't use that total altogether. What the router does is to allocate the network band according to the capability of a connected device. For example, an older laptop that can only support older WiFi standards will utilize the 2.4 GHz band while newer smartphones can ride on the 5 GHz bands. It also means that two users with simultaneous data-hungry needs, like gaming and video streaming, won't have to fight over the same 5 GHz band since there are two of them available.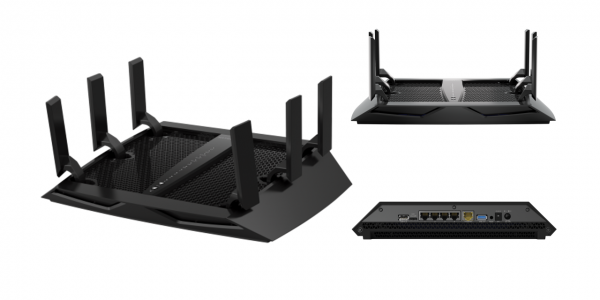 NETGEAR is also throwing in some rather fancy features to sell the router, in case you don't buy the Tri-Band spiel. Beamforming+ is a signal-focusing technology that lets the router lock on to a wireless device and send it the best WiFi signal that it can. If you move the device farther away, it will try to compensate and adjust accordingly, throwing signals directly at the device rather than casting a wide net.
The Nighthawk X6 also has a SuperSpeed USB 3.0 port that you can use to attach a storage device. This setup will transform the router into a media hub, with support for DLNA and AirPlay streaming to compatible devices. Security should not be a concern with NETGEAR's ReadyShare Vault software.
The NETGEAR Nighthawk X6 runs on a 1 GHz dual-core processor and has three offload processors to ensure peak performance no matter the network or device load. For those who prefer to add some wired connection to the mix, the router has 5 Gigabit Ethernet ports, four for LAN and one for WAN.
All of these features do not come cheap. The Nighthawk X6 comes with a price tag of $299.99. The router is now available for pre-order online, though no shipping date has been announced yet.
SOURCE: NETGEAR