Netgear Nighthawk AC1900 Smart WiFi Router brings world's fastest home speeds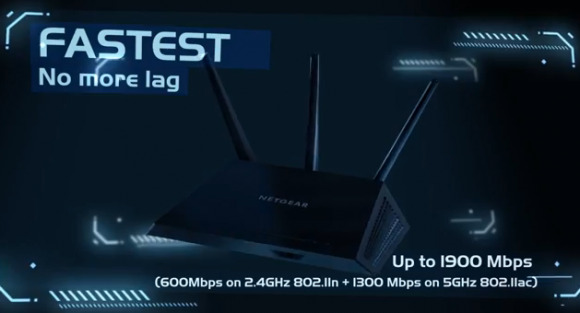 Supposing you're wanting to make the most of your best-in-class internet connection at home, the folks at Netgear have brought forth the likes of their Smart WiFi Router by the name of "Nighthawk." They saw the need for such a high-powered device in the everyday home environment, and they made it a reality. Here you'll find the AC1900 Smart WiFi Router (R7000) prepared for the common market, rolling out with a 1GHz dual-core processor, SuperSpeed USB 3.0 connectivity, and Netgear Beamforming+ technology to boot.
With this device, users will be able work with WiFi connectivity at up to AC1900 WiFi (600 +1300 Mbps). This comes with a disclaimer that, of course, you're going to need the internet speed from your local provider to hit that kind of benchmark – but once you're ready to roll on the in, Netgear is ready to blast out. What you're seeing in the video appearing in this article is a teaser for the router itself – it's that fancy looking (and next-level functional, of course).
You'll be working with a customized (and free) URL to create an FTP server with this router, VPN support right out of the box, and open source firmware support from myopenrouter.com as well. On the rear of this machine you've got five Gigabit Ethernet ports for ultra-fast wired connections – one WAN and four LAN ports, that is. You'll be rolling out with compatibility with Apple Time Machine compatibility as well – just connect a USB hard drive to Nighthawk's USB 3.0 port and you're good to go.
This router works with ReadySHARE USB access, ReadySHARE printer support, and AirPrint support. You'll have NETGEAR EZ Mobile Connect and guest network access for guest's mobile devices, connecting made easy with a QR-code scan. Inside you'll also find free Live Parental Controls, NETGEAR MyMedia, and NETGEAR Genie too.
The final release date on this machine is not yet known, but it'll likely come to the UK first – we'll see soon about international launch. The same is true of pricing – coming imminently. UPDATE: The Nighthawk is now available – and available for $199.99 to boot!