NetGear Digital Entertainer Elite network is FCC tested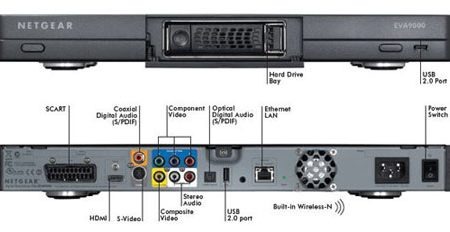 The NetGear Digital Entertainer Elite network has been spotted at the FCC. This media streaming device is going to launch in the near future and it is truly next-gen. It can decode all sorts of high-definition files, which is most certainly impressive.
For instance, it can decode XviD, AVI, DivX or H.264 codecs. It also has support for a 3.5-inch SATA internal dark disk drive. The Wi-Fi module is a nice bonus, as well. It also features a USB 2.0 port, an HDMI port, SCART, S-Video, RCA audio, component video, optical audio and coaxial digital audio. Basically, anything you want to hook up to it, can be hooked up to it.
The Ethernet jack also makes it easy to use your computer entertainment on the home theater system. You can connect an external optical drive or other devices to play your own movies and files as well in formats such as TS, MKV and M2TS HD. No launch date or pricing information is known yet, though we're expecting a reveal at CES 2009.