Netflix will end 'Grace and Frankie' with its seventh season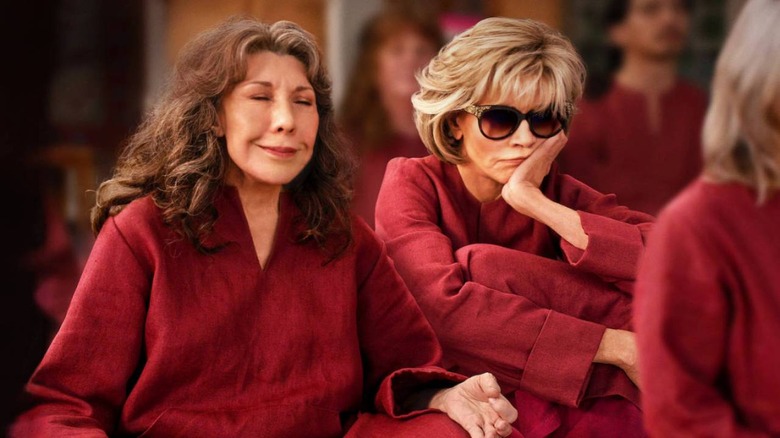 In January 2019, Netflix released the fifth season for its comedy Grace and Frankie, a show that it plans to end with the launch of its seventh season. When that day comes, Grace and Frankie will officially be the longest-running Netflix original, joining other early hits like Orange is the New Black and House of Cards.
Grace and Frankie features Jane Fonda and Lily Tomlin in the two main namesake roles, each forced into an alliance with the other after their relationships with their husbands take an unexpected turn. The show has been nominated for Emmy awards and has largely received critical and viewer praise, earning it repeated renewals despite the typically tricky age demographic.
The upcoming end to the show was announced on the official Grace and Frankie Twitter account, where the team said, "You laughed with us, cried with us and grew old with us. Today we announced Grace & Frankie has been renewed for what will be our seventh and final season."
It's bittersweet news for fans who have enjoyed new seasons of the show since the first arrived in 2015. Unlike many popular Netflix shows that never get the chance to conclude their stories, the known end in Season 7 gives the show's team the opportunity to neatly wrap up the story, giving fans proper closure for the series.
Though Netflix has been criticized at times for its tendency to cancel popular shows, Grace and Frankie underscores the degree of freedom offered by a platform that doesn't rely on advertisements. Unlike cable television, where shows targeting older viewers tend to struggle, Netflix is better positioned to offer this type of content. That fact was underscored by the company's past acquisition of Longmire, a popular show that first aired on television, but was ultimately canceled due largely to the older average age of its viewers.
Grace and Frankie Season 6 will arrive on Netflix in January 2020.