Netflix mobile previews bring vertical videos to your phone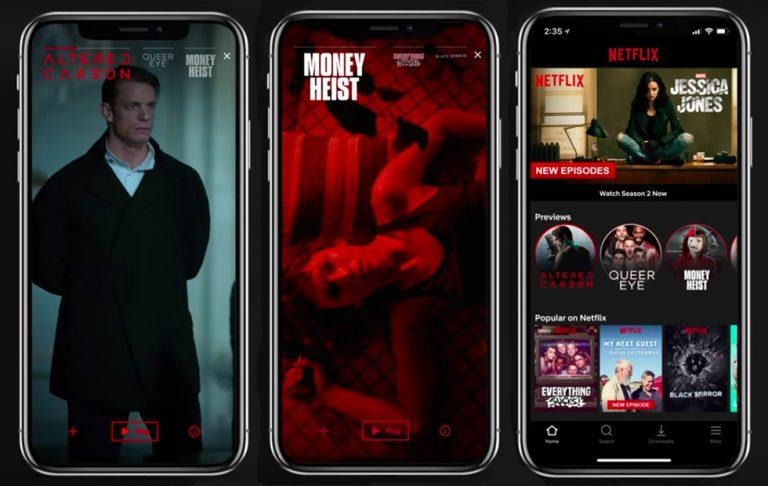 Video previews will soon launch in the Netflix mobile app; once they arrive, subscribers will have the option to watch 30-second teasers for various shows and movies offered through the platform. Unlike content that is selected and played, however, these trailers will stream in vertical — rather than horizontal — orientation. The mobile previews will arrive about two years after Netflix introduced previews on its TV app.
Video previews on Netflix are controversial. Though trailers are always welcome, Netflix's platform plays them automatically if the user pauses on any given thumbnail. Many subscribers have expressed frustration with this design, as well as the tendency to automatically play a Netflix Original preview after a series or movie ends.
It doesn't appear that design will be translated to mobile, however. Netflix Vice President of Product Todd Yellin announced the upcoming preview video additions at an event earlier today, saying they'll arrive for subscribers in April. Once they do, the customer will see circular thumbnails for show previews.
Tap on any given preview and the trailer will play in a vertical video that fills the device's entire screen. The design is a familiar one, leveraging "bubble" thumbnails and full-screen vertical video to make casual browsing a simple thing. The previews have themselves been previewed in a Netflix teaser (above).
Users will find these previews in the Netflix mobile app's home screen; the show thumbnails will remain square-shaped, making it easy to tell the difference between a show and its preview at a glance. Users will be able to swipe through the row of previews; Netflix will offer up to 75 of them at any given time. Ultimately the streaming service has 30-second previews for hundreds of original and licensed titles ready to launch.
SOURCE: Variety