Netflix Launches Android App For "Select Phones"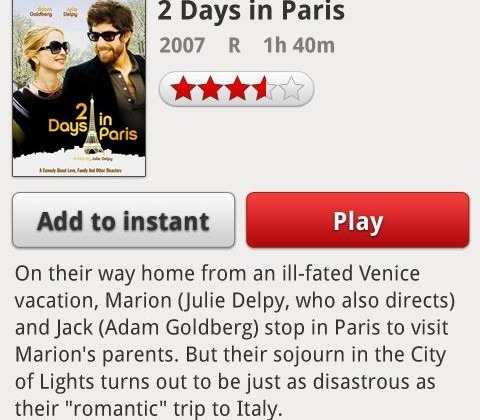 Excellent news for Netflix subscribers who love their Android phones! Netflix has just launched an app for Android, something that has been long-awaited by Android device users. The app is free from the Android Market, but is only available "on select phones that currently have the requisite playback support." So far that means the HTC Incredible, Nexus One, Evo 4G, and G2, plus the Samsung Nexus S. Netflix says it will be quickly adding to the phones that can download the app.
Netflix says it is working out the technical kinks and that "many of these technical challenges will be resolved in the coming months and that we will be able to provide a Netflix application that will work on a large majority of Android phones." Right now, Netflix needs to test the app on each individual phone type due to the lack of standard streaming playback features, which they are doing "aggressively". They are also working with ecosystem partners to expand the list of devices.
The functionality is pretty similar to the current app for iPhone, you are able to resume watching where you left off on your TV or your computer. You can also manage your instant queue as well as browse movies.
The app is currently not available in Canada, either.
This is great news, though, and long-awaited. To check the current list of phones which can download this app, check here.
Have you gotten the app yet? Let us know.
[via Netflix blog]