Netflix has an original movie directed by Angelina Jolie inbound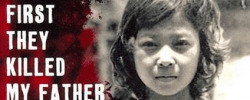 If there were any doubts about Netflix's ability to pull off original movies, its increasingly notable announcements should put them to rest. On Friday, Netflix announced that Angelina Jolie will be directing a Netflix Original Film called "First They Killed My Father", an adaption of the book by Cambodian author Loung Ung detailing life during the Khmer Rouge regime. Jolie, says Netflix, co-adapted the movie's script in conjunction with Ung. This follows a lineup of original movies Netflix will begin releasing in October.
We've previously heard that Jolie planned to direct an adaption of the book, and learning that Netflix will be its home is exciting — creators, arguably, are given an element of freedom they wouldn't necessarily get elsewhere, and it is the viewers who will directly benefit from this.
Jolie is serving as a producer, as well as Rithy Panh, a Cambodian director and producer. Netflix, which is referring to itself as the "the world's leading Internet television network", says all of its viewers across the globe will get access to the film, which will be premiering late next year. It plans to submit it to unspecified "major international festivals", as well.
Netflix has been busy as of late, releasing new trailers for upcoming original shows, pushing out updates for its apps, and, unfortunately, detailing plans for future price hikes. You can find out more about those announcements by checking out the timeline below.