Netflix Card brings pay-as-you-go to streaming service in UK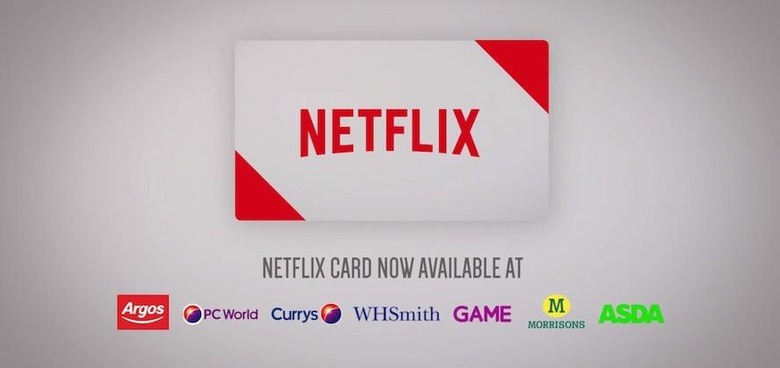 Netflix, the source of all our binge TV-watching these days, has just announced the Netflix Card. No, it's not a streaming video-sponsored credit card, but a way to subscribe to the service through a pay-as-you-go plan. Netflix highlights that the card can be used to continue using the service after the free trial ends, or existing subscribers can switch to pre-paid from the existing billing method. While gift cards for the service have been available in the US for some time, this is the first appearance in the UK.
Just like most gift cards today, the Netflix Card will be available in denominations of 15, 25, and 50 pounds of credit. The card will come with a unique code on the back that will need to be entered on Netflix's website, and the value can be applied to any of the three streaming tiers, which include SD, HD, and 4K plans.
However, the card denominations won't align nicely with the plans' monthly prices, so Netflix has made it so that any extra credit that isn't enough to make a payment will remain on the account, meaning users just need to top-up with the difference. UK retailers offering the card include Argos, Currys, PC World, WH Smith, GAME, Morrison's, and Asda, with more supermarkets to be included in the coming months.
Prior to the Netflix Card, the only payment options were a credit/debit card or PayPal. This pre-paid option will likely be more attractive to new subscribers, who still had to enter payment details when signing up for the free trial. It will also make it easier to give Netflix as a gift, essentially lengthening the free trial for recipients of the card.
VIA Tech Radar