Netflix Canada instant streaming kicks off for $7.99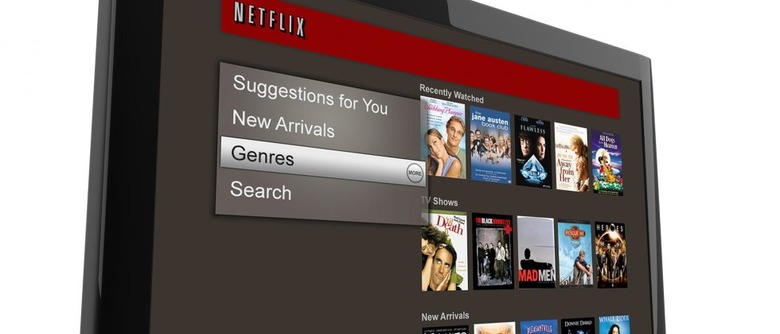 Netflix has delivered on its promise to launch its streaming TV and movie service in Canada, with the news that the $7.99 per month plan is now available.  Offering unlimited access to "thousands" of titles, content will be viewable on PCs and Macs, the Wii and PS3 – Xbox 360 follows on later in the fall – and various Blu-ray players, together with Netflix's iOS apps.
Initial content will be in English only, but Netflix plans to bring French language media to the service "over time."  Among the titles there's children's TV and films, such as SpongeBob SquarePants, Dora the Explorer and Babar, together with previous seasons of Mad Men, Monk and Rescue Me, and films such as Superbad, A Beautiful Mind and more recent titles from Twentieth Century Fox.
In fact, Netflix has signed Canada-specific agreements with Lionsgate, MGM Studios, Paramount Pictures, Sony Pictures Entertainment, Twentieth Century Fox and Universal Pictures, as well as Canadian distributors Alliance Films, Maple Pictures, eOne and Mongrel.  We're hearing that, unsurprisingly, the initial content on offer is pretty sparse, but hopefully that will change over time.
Press Release:
Netflix Launches Canadian Service for Streaming Movies and TV Episodes Over the Internet

For $7.99 a Month, Canadians Can Instantly Watch Unlimited Movies and TV Shows Streamed from Netflix to TVs and Computers – First International Market for Web's Leading Movie Subscription Service

TORONTO, Sept. 22 /PRNewswire/ — Netflix, Inc. (Nasdaq: NFLX), the leading Internet movie subscription service, today launched in Canada with an offering that allows Canadians to instantly watch unlimited movies and TV episodes streamed from Netflix to TVs and computers for only $7.99 a month. The Canadian introduction marks the first availability of the Netflix service outside the United States.

Canadians can immediately begin a free, one-month trial – or learn more about Netflix – by going to www.netflix.ca.

"With our launch today in Canada, Netflix is focused on adding meaningfully to the entertainment choices available to Canadian consumers," said the company's co-founder and CEO, Reed Hastings, who was in Toronto for the inauguration of the service. "Convenience, selection and value are at the heart of the Netflix service, and it is our hope that this resonates with Canadians."

Canadian Netflix members can choose from thousands of movies and TV episodes, including feature films, popular TV series, independent cinema, documentaries, foreign language movies, and kids' programming. Choices are instantly streamed to TVs and computers via a broadband Internet connection – and members can watch as much as they want, whenever they want.

A range of leading devices that stream from Netflix

A number of consumer electronics devices available in Canada are capable of streaming instantly from Netflix right to TVs. Nintendo's Wii home console and Sony's PlayStation®3 (PS3™) system can stream from Netflix now, and later this fall Microsoft's Xbox 360 is set to join the Netflix streaming ranks here. The installed base of the three leading consoles in Canada is approximately six million units.

In addition, iPhone, iPad and iPod touch can now stream from Netflix in Canada, as can Blu-ray disc players from Samsung and Toshiba. Movies and TV shows streamed from Netflix can also be watched instantly on PCs and Macs. Over time, more devices capable of streaming from Netflix are expected to be added in Canada, including Blu-ray disc players from VIZIO and Insignia (the latter available exclusively at Best Buy and Futureshop), Internet TVs from Samsung and the recently retuned Apple TV when it is introduced here.

Thousands of movies and TV shows to choose from

As part of today's launch, Netflix announced Canadian license agreements with major motion picture

studios such as Lionsgate, MGM Studios, Paramount Pictures, Sony Pictures Entertainment, Twentieth Century Fox and Universal Pictures, as well as leading Canadian distributors Alliance Films, Maple Pictures, eOne and Mongrel.

Content available to Canadian Netflix members includes:

Popular feature films like "Superbad," "The Pursuit of Happyness," "A Beautiful Mind," "The Notebook," "Elizabeth" and "Slumdog Millionaire."

First-run feature films from Twentieth Century Fox, including "(500) Days of Summer," "My Life in Ruins," "All About Steve" and "Fantastic Mr. Fox" concurrent with their release on linear pay TV in Canada.

In-cycle programming including the new romantic comedy "Running Wilde," starring Will Arnett and Keri Russell. In Canada, "Running Wilde" will stream from Netflix on the same day as the show airs on network television in the U.S.

The first five seasons of the Canadian Showcase Network's hit "mockumentary" series "Trailer Park Boys," director Mike Clattenburg's creation about the misadventures of a group of trailer park residents in Dartmouth, Nova Scotia.

Prior season episodes of the Emmy® and Golden Globe® winning TV series "Mad Men" (the stylish drama about ad agency life on New York's Madison Ave in the 1960s) and the hit dramas "Leverage" (starring Academy Award® winner Timothy Hutton), "Rescue Me" (Denis Leary's series about New York City firefighters) and "Monk" (starring Emmy® Award and Golden Globe® Award winner Tony Shalhoub in the title role).

Popular shows from the Discovery Channel ("MythBusters"), Nickelodeon ("SpongeBob SquarePants" and "Dora the Explorer"), Canada's Nelvana Studio (animated episodes of "Babar" and "Franklin") and the BBC ("Robin Hood" and "Fawlty Towers").

As previously announced, the Netflix Canadian service will initially be available in English only, but the company said it expects to add French language capability over time.