Netflix app update brings Android Wear integration, social features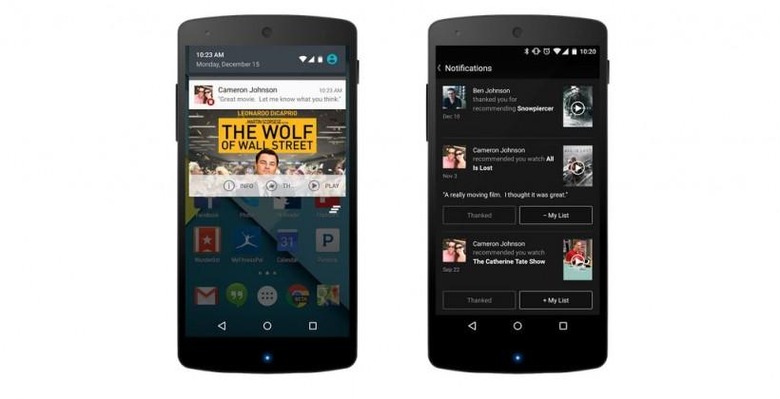 Between its myriad content announcements, Netflix has been releasing somewhat regular updates to its various apps. We recently saw 1080p arrive for the company's iOS app, for example, and back in September it announced a Social Recommendation feature for Apple products, the Xbox and PS3, and some other devices. Now, finally, the video streaming service has announced some new social features for Android users, including the ability to send a friend a "thank you", and Android Wear integration.
With these new features, those using the service on an Android device can send show recommendations to specific friends, as well as thanking a friend who has recommended something for you to watch. Netflix says it is "taking full advantage of" Android's push notification functions.
Even better, Android Wear users have been included with this latest update, which brings with it integration for the wearables platform. Users will have recommendation notifications shuttled to their wrist, as well as the ability to "watch, thank, play" or view details on shows.
Netflix has been busy this month, slowly adding new content to its library after pulling a bunch of content earlier this month. Marco Polo recently went live, with ten episodes being available, as well as a slew of other shows (and more coming soon). Be sure to hit up the timeline below to see the company's most recent news!
SOURCE: Netflix