Netflix announces deal with DreamWorks for streaming content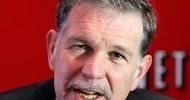 I was bummed not long ago when Netflix announced that it would be ending the content deal that it has in place with Starz. At the time, it seemed that all of the movies my kids liked to watch were part of that Starz deal. Netflix has patched up that kids movie hole with a new deal that has been announced with DreamWorks. The deal will see DreamWorks' kids flicks coming directly to Netflix.
Previously the movies from DreamWorks went to HBO when they hit TV for the first time. The deal is said to cover not only films, but also TV specials. That means the holiday content that DreamWorks offers will hit Netflix as well. The terms of the deal aren't public at this time, but according to the NYT, analysts think that Netflix is coughing up $30 million per movie for the content.
The content won't hit Netflix until 2013 according to reports. The deal between Netflix and DreamWorks is the first deal to be made of this sort between a streaming content provider and a major movie studio. Generally, flicks from studios as large as DreamWorks go to cable channels like HBO within a few months of hitting DVD. This Netflix deal represents a major shift for a movie studio. Netflix has been struggling with customer defection since it upped prices recently.
[via NYT]