Netflix adds 'Latest' shows tab and new 'Remind Me' alerts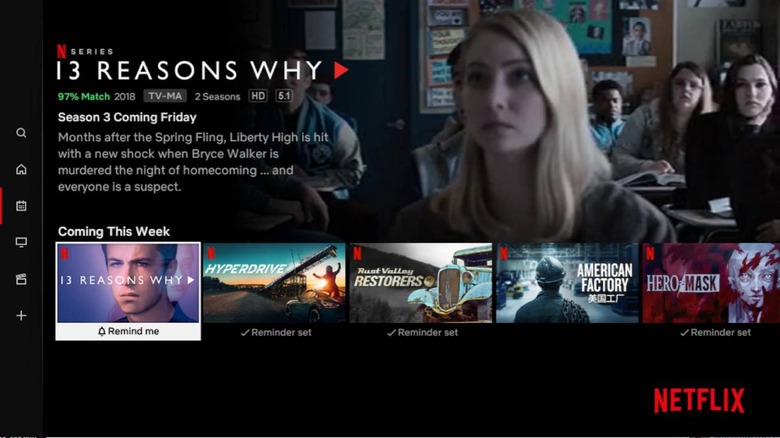 Netflix has slightly redesigned its interface, adding a new tab called 'Latest' that makes it easy to find newly added content and to see which shows will be getting additions in the near future. The tab is located in the relatively new interface's left-side panel, where users can also access the search tool, return to home, and more. In addition, the new tab allows users to sign up for reminders.
Netflix has historically helped users find new content on the service by offering a 'Now on Netflix' newsletter. The 'Latest' tab and 'Remind Me' alerts build upon that foundation, enabling users to directly view new and upcoming content in the 'Latest' tab within the Netflix app. As well, users can sign up for alerts to keep track of specific shows.
Within the 'Latest' tab, which is presented with a calendar icon, users will find the categories 'New this Week,' 'Coming this Week,' and 'Coming Next Week.' Each self-explanatory category breaks up the content that is now available, the content that will arrive by the end of the week, and new content that will be added in the following week.
All types of content will be included in the Latest tab, according to Netflix, including originals and foreign shows. The listings will include any available sneak peeks at the new TV shows and movies, as well as the ability to click 'Remind Me' for alerts that'll arrive when the show is available to stream.
Users can sign up for reminders on any of the listed upcoming content. Users started seeing the new tab and alerts in August, but the rollout is still underway to a number of supported devices. All Netflix-enabled devices will get the Latest tab over the next few weeks. It will take a number of months for the feature to arrive on smart TVs and any remaining platforms.