Netflix abruptly cancels 'Santa Clarita Diet,' says no to Season 4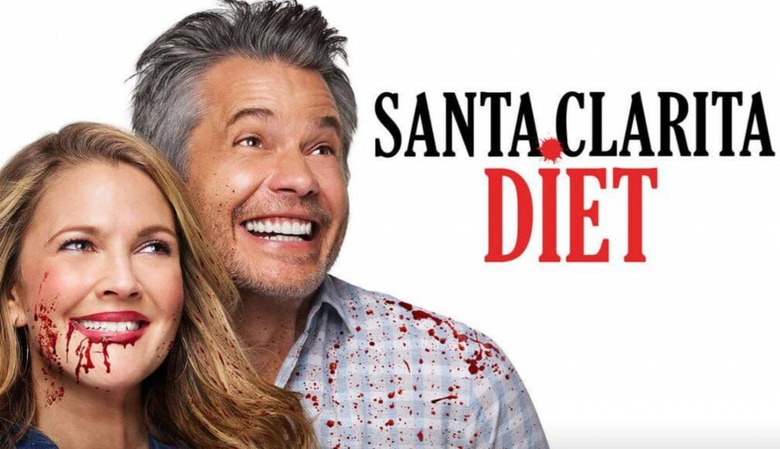 Less than a month after releasing its third season, Netflix has abruptly announced the cancellation of its hit dark comedy Santa Clarita Diet. Fans will not get a fourth season. The news has shocked viewers and critics alike, particularly in light of season three's extremely high reviews following its release on March 29. The news follows Netflix's controversial cancellation of One Day At a Time.
Santa Clarita Diet is the latest victim in Netflix's trend of ending original shows after relatively short periods of time. The company nixed One Day at a Time after three seasons. The decisions sting for fans who then see the streaming company turn around and save other shows, such as Lucifer, from cancellation.
The dark Netflix comedy starring Drew Barrymore and Timothy Olyphant followed the story of an increasing number of people who contracted some sort of zombie virus, compelling them to eat other humans. The show has been widely praised for its fresh take on the tired genre, as well as its rapid-fire comedy.
The show enjoys a solid overall rating of 89% on Rotten Tomatoes, which blessed season three with a perfect 100% score. According to Google's user ratings, viewers have given the show a 96% positive rating. Fans have already mobilized and started an online campaign requesting that Netflix give them a fourth season and proper closure.
Netflix has developed a reputation among some customers who have expressed concerns about the company's tendenacy toward giving its shows relatively short lives. Previous lamented cancellations include Marvel's Daredevil, and Bloodline.
Sadly, because Santa Clarita Diet is a Netflix original, it is extremely unlikely we'll see it picked up by another network.