Neo 808i is about as small as practical cell phones go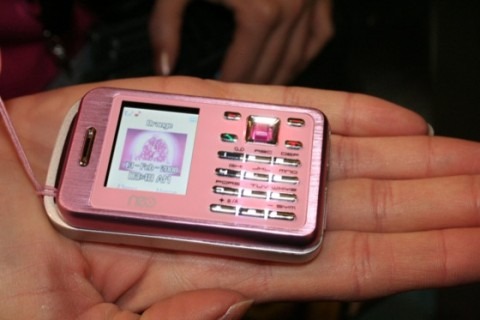 This tiny, tiny handset is like some sort of weird side-by-side version of your normal candy-bar form factor phone. Its really small but yet still manages to pack in WiFi, a 4MP cam and MP3 and MPEG-4 playback.
Neo is the company, and its based out of Dubai, in case you don't know what Dubai looks like, or where it is, its in the Middle East, it's the single richest city in the world, and if you could imagine the architecture of Heaven, I'd assume it would look something like the city of Dubai. Anyways, they are bringing this handset, and 3 others, all to the US shortly.
So, the version you see in the photo is pink and grey, they also happen to have, for the guys I assume, a black and red version of the device that looks pretty cool. It has tri-band GSM/GPRS, a microSD card slot, FM Radio, Bluetooth with data transfer, WAP, and more. One bit of contention is the CrunchGear article says it has a 4MP camera but the product page says 1.2MP.
No word on when, or what carrier, or if they'd just be sold unlocked, carrier independent, but it looks pretty cool for a chic phone. Sadly we also don't have any word on price, but they will be here by the end of the year, so I assume we'll know soon.
[via CrunchGear]