Need for Speed Payback unveiled, will arrive in November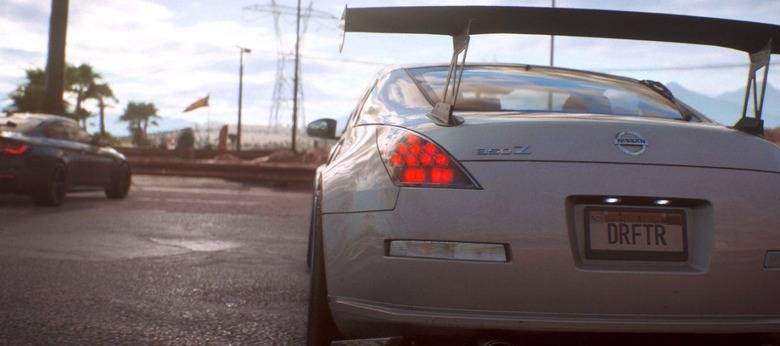 The next installment in the Need for Speed game franchise has been announced, and it'll be arriving on November 10th of this year. Called Need for Speed Payback, the game will be arriving on Xbox One, PC, and PlayStation 4, building upon the racing series from EA. A trio of different characters will arrive with the game, as well as a bunch of fancy cars, particularly for those who preorder the title.Need for Speed Payback is being created by Ghost Games, which will release it for purchase starting on November 10, 2017. Buyers will have multiple options for acquiring the game, including a Deluxe Edition that will cost $80. Buyers who preorder the title will also received the special Platinum Car Pack, which includes a '67 Camaro SS, '69 Dodge Charger R/T, 2008 Nissan 350Z, 2016 Ford F-150 Raptor, and a 2016 VW Golf GTI Clubsport, according to Polygon.
According to EA, Payback features a single-player campaign game that will take gamers into the life of Tyler Morgan, a former street racer. Morgan, per the story's mythos, was double-crossed by some now-enemy and was 'forced into exile.' He's back, though, building his crew and seeking payback, hence the game's name. Gamers will need to take down 'The House' cartel, beat an 'impossible race,' and more.
The game will offer players five different classes of cars, including runner, drag, race, drift and off-road. Players will get to customize their car and garage, earn aftermarket parts, and more. All of this is done in the fictional city of Fortune Valley where the game is set. EA explains that gamers will also be able to find and acquire abandoned cars, breathing new life into them.
Sound exciting? Those with EA Access and Origin Access Member who have Play First will be able to get the title on November 2, while Deluxe Edition buyers will be able to get the game on November 7 and everyone else (that is, the standard edition) will be able to get the game on November 10.