NEC Versa N1100 (aka LaVie Light) netbook gets unboxed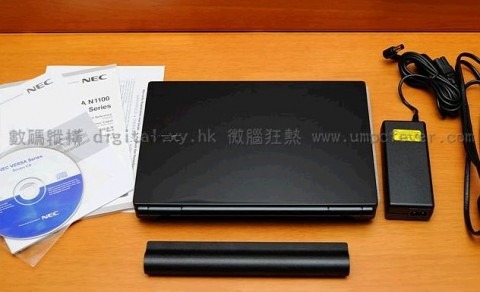 NEC's LaVie Light netbook seems to have had a name change – becoming the NEC Versa N1100 – but sadly it's not undergone a design revolution at the same time.  UMPC Fever have one of the first review samples we've seen, and they're sharing the unboxing.  Sadly, as you'll see in the gallery after the cut, the squared-off edges of the netbook are still just as blunt.
NEC do seem to have given the N1100 a new paint treatment, with the lid at least being mildly reflective and almost silver at some angles, but overall there doesn't appear to have been much consideration given to ergonomics.  One of the useful things about netbooks is the ability to quickly whip them out of a bag, use them on the move, and then slot them back in; for that, at least a slightly curved edge is helpful.
Under the hood there's the usual mixture of Intel Atom 1.6GHz N270 processor, 1GB of RAM, 160GB hard-drive (running at 5,400rpm, at least, not 4,200rpm) and WiFi b/g.  NEC's market research has obviously found that its users love indicator lights; there are nine of them running across the front edge, showing everything from wired ethernet status to caps-lock and power.
Unless the benchmarks surprise us all and pull some stonking performance out of the bag, or the price-tag plummets to meagre-budget levels, the NEC Versa N1100 doesn't really appeal.