NEC unveils new WXGA projector for large venues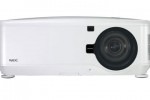 There are so many uses for projectors from boring presentations at school or the office to the much more fun like big screen gaming or football games. No matter what you are using a projector for, it has to be appropriate for the environment it will be used in. Big venues are especially demanding on projectors with the need for a very bright device.NEC has announced a new projector for large venues called the NP4100W. The projector has a massive 5500 ANSI lumens making it bright enough for large venues and rooms with poor light control. The projector uses DLP technology for improved contrast and response time.
The projector can be fitted with optional lenses supporting screen sizes of 40 to 500-inches at distances from 2.8 feet to 304 feet. The projector can also be used with single or dual lamps depending on the implementation. NEC also offers an optional six-segment color wheel for rich colors. The contrast ratio is 2100:1 and the native screen resolution is 1280 x 800. Connectivity features include DVI-D with HDCP, RCA, s-video component, and 15-pin BNC.