NEC shows off three interesting Android devices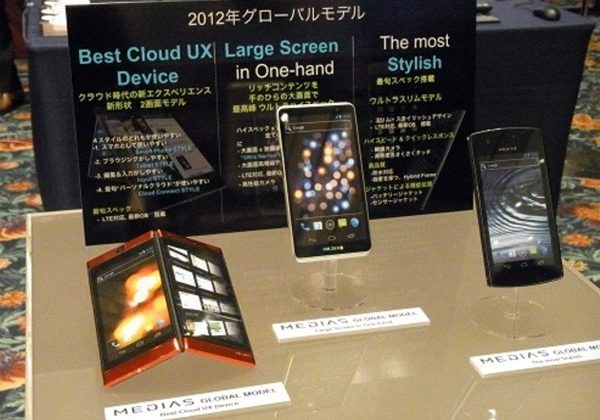 We don't hear much from NEC here in the US on the tablet/smartphone front, but in Asia the company has several products that fall under those categories. Most of what we get from NEC in the US are projectors. NEC has unveiled three new Android 4.0 LTE handsets in Japan, and two of them look particularly interesting. Granted they're strapped with names that are odd to my ears. My favorite of the three products is called the Best Cloud Device.
That device shares a bit in common with the Sony Tablet P in that it has dual screens and folds. The big difference between the two is that the NEC folding tablet puts the screens on the outside rather than on the inside as Sony does. We don't have any hard specifications on any of the three devices, but they are expected to be seen at Mobile World Congress where we will get the full scoop. All we know now is that NEC touts an extra-large battery to let the device run for a long time despite having dual screens.
The middle device in the photo above is called the Large Screen in One Hand. Remember, I mentioned strange names for the products. The device does have a large screen and you can hold in one hand. It looks like something to compete with the Galaxy Note and the LG Optimus Vu devices that walk the line between tablets and smartphones. The device on the far right in the photo is called The Most Stylish, which I'll take with a grain of salt because it doesn't appear to be overly stylish. It's touted to be water resistant, have a special jacket to extend functionality, and a fast activating camera. There is no word on what the expendable functionality via the jacket is. Perhaps, it will have some sort of sleeve to turn the smartphone into the tablet.
[via The Verge]