NEC Outs LaVie Touch Windows Tablet With Cool Add-Ons Included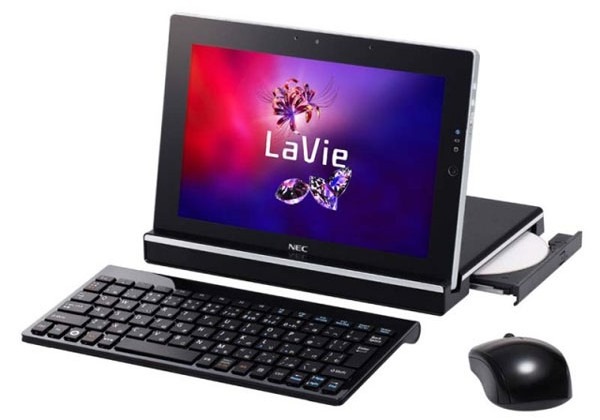 NEC has announced an interesting new tablet that runs Windows 7 Home Premium and has hit the Japanese market today. The tablet is interesting because it also comes with three accessories that will make working with the tablet much easier for both the business and home users. The tablet is called the LaVie Touch and the three accessories that the tablet comes with are things that most people will be seeking for their tablet after buying one in short order anyway.
The accessories include a Multistaiton, a wireless mouse, and a wireless keyboard. The Multistation is an interesting little device that has a slot in it to hold the tablet in landscape mode. The main use for the device isn't that slot though, it's that it has an optical drive inside. The thing that isn't clear is how exactly the optical drive connects to the tablet. The wireless mouse and keyboard are your typical peripherals.
The hardware inside the tablet includes a 10.1-inch IPS LCD with a resolution of 1280 x 800. The processor is the Atom Z670 at 1.5GHz and the tablet has the Intel SM35 Express chipset. The tablet also has 2GB of RAM, a 64GB SSD, WiFi, Bluetooth, a 1.3MP camera, a pair of USB ports, HDMI out, and a SDHC card slot. The battery inside the tablet promises 10.6 hours of runtime and the tablet measures 263x183x15.8mm and weighs 729g. The biggest downside to this tablet is the price; with the accessories included, the tablet has a price in Japan equivalent to $1,230. You can't get the tablet without those accessories.
[via TechCrunch]