NEC NC1100L Digital Cinema projector uses laser light source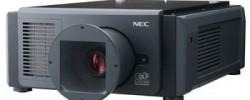 NEC has announced a new digital cinema projector that uses a laser light source rather than a traditional lightbulb. The projector is called the NC1100L Digital Cinema projector and it's aimed at art houses, mobile cinemas, University theaters, and public buildings. NEC says that the laser light source is able to deliver 2K DCI-compliant cinema quality video.
That means it can throw an image with a brightness rating of 14-ft-l when paired with a 1.8 gain screen. The projector supports that brightness rating on screens up to 36-feet in DCI color. NEC notes that this is the world's first digital cinema compliant projector using a laser light source.
The projector has a resolution of 2048 x 1080. It does support 3-D content and features a three-chip DMD reflection method. One big feature of the laser light source is a lower total cost of ownership since the laser light is good for about 20,000 hours of use.
The contrast ratio for the projector is 1600:1 and the projector supports multiple bayonet lens options for easy installation. The projector also supports motorized zoom, focus, and shift capability. The projector is designed to mount on the floor or ceiling with no exhaust system required. The projector uses air cooling and has a built-in 2 TB RAID5 storage server. Connectivity includes two 3GSDI inputs and a single HDMI input along with advanced networking functions. The projector will be available in March 2014 at an undisclosed price.
SOURCE: NEC
IMAGE: Hardwarezone