NEC LifeTouch dual-screen Android tablet tipped for CES 2011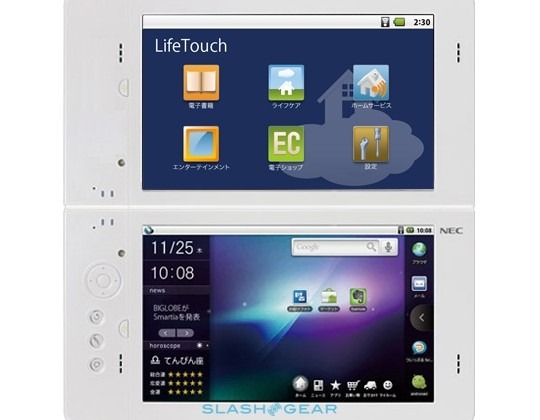 NEC has announced plans to bring a dual-screen Android tablet to CES 2011. The tablet, which we've mocked up in the image below, will carry the same NEC LifeTouch branding as the company's existing single-screen LifeTouch slate, but have a pair of 7-inch touchscreens along with WiFi, Bluetooth and 3G connectivity.
The new LifeTouch will be able to show different information on each display simultaneously, though beyond that details are slim. Still up in the air is whether NEC will be using resistive or capacitive touchscreens, which version of Android the company has selected, and whether the tablet will have a consumer or vertical-market focus.
In Japan, the single-screen LifeTouch is offered via service providers – whether healthcare, business, or publishers looking for ereader devices – rather than as a direct-to-consumer tablet. NEC is apparently also planning to bring a keyboard-equipped Android netbook to CES, along with the original LifeTouch.
[via PC World]