NEC EX241UN 24-inch monitor has super-thin 0.8mm bezels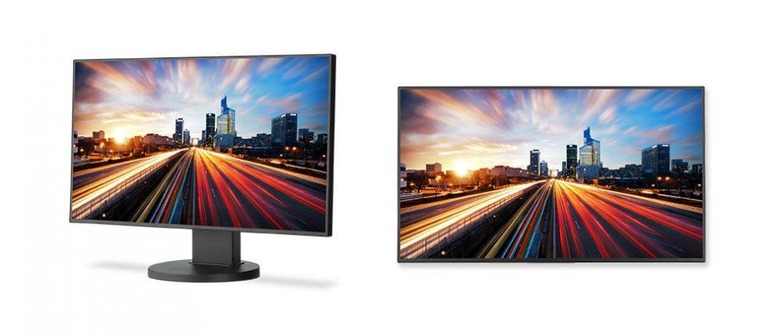 NEC has unveiled a new monitor that has some of the thinnest bezels on each side that you will encounter. Those bezels are only 0.8mm all around making the new EX241UN 24-inch display ideal for use on a video wall. The bezels are thin enough that in a multiple monitor configuration the inactive space is only 5.38mm between matching sides.
The monitors can also rotate the image 180-degrees allowing two monitors to be tiled vertically. The display supports a tile matrix of up to 5x5 using DisplayPort SST mode and 2x2 using DisplayPort MST mode making it ideal for small-scale video applications. The monitor uses AH-IPS panel technology and LED backlighting.
Viewing angles are very wide at 178-degrees horizontal and vertical and the display has factory-calibrated uniformity correction. It can also be calibrated to match other displays with the SpectraView software. The display has 1920 x 1080 resolution at 60Hz, dynamic contrast of 20,000:1, 16:9 native aspect ratio and 6ms response time.
"The new EX241UN slim design demonstrates NEC's commitment to push the boundaries of desktop display technologies," said Kevin Christopherson, Director of Product Marketing for Desktop Displays at NEC Display Solutions. 'Its image quality and features offer new configurations for users across multiple industries."
Brightness is rated at 250 CD/m2 with 8-bit color. Connectivity options include VGA, DVI-D, DisplayPort 1.2, HDMI 2.0, and Display Port out. A three port USB 3.0 hub is also built-in along with speakers and a headphone jack. The display includes a 3-year warranty and will ship this month for $379.
SOURCE: NEC