NEC E171M 17-inch LED monitor is green and adjustable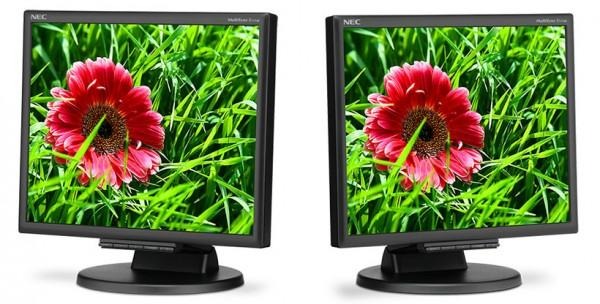 NEC has announced a new compact desktop monitor for the business world. The screen is the E171M and it is designed to be green and affordable. It is a bit different than most of the displays we see on the market today.
The big difference between the E171M and most of the other displays on the market is that the new screen doesn't use a widescreen aspect ratio. NEC uses a 5:4 aspect ratio with the E171M and it has a 1280 x 1024 resolution. The aspect ratio means that it is a square monitor like those that were common years ago.
The upside to a square monitor like this is that it will take up less space than similar wide screen units on a desk. The E171m has a brightness rating of 250 cd/m2, 1000:1 contract ratio, and an ergonomic stand. 50mm worth of height adjustment and swivel capability makes the two-way stand of the screen easy to adjust for comfort.
Connectivity for the monitor includes VGA and DVI-D. NEC also includes a carbon footprint meter so you can see how the green display is helping save the environment. Touch can be integrated into the display and it is EPEAT Silver, Energy Star 6.0, and TCO 6.0 compliant. NEC's E171M will ship this month for $179.
SOURCE: NEC Display