NEC 23-inch LED E232WMT monitor has touch support and HD webcam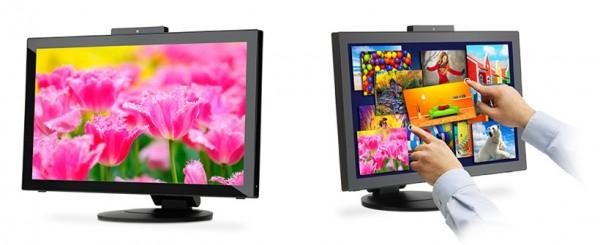 NEC has rolled out a new computer monitor called the E232WMT that features LED backlighting and several other features aimed at business users. The monitor has a full HD resolution webcam integrated for video conferencing. NEC also integrates speakers into the monitor and an ergonomic, adjustable stand. One of the biggest features of the new display is support for touch control.
NEC's E232WMT supports 10-points of touch and has a 23-inch wide screen. Native resolution for the monitor is 1920 x 1080, meaning it can support full HD content. Brightness rating for the screen is 250 cd/m2 and the dynamic contrast ratio is 15000:1. The ergonomic stand of the monitor supports height and tilt adjustment.
That stand also allows the monitor to be folded flat for increased functionality. An integrated USB 3.0 hub allows the connecting of peripherals to the monitor. Connectivity options include HDMI, DVI-D, and VGA inputs. A no-touch auto adjust option will adjust the monitor for the user making it easy to get the best image possible.
NEC also builds-in an ECO mode to save power and the monitor supports NaViSET Administrator software for central control of the device. An ambient light sensor helps the monitor to adjust itself to the light conditions without the user having to go through menu settings. Power efficiency and and overall green design are shown with EPEAT Gold, Energy Star 6.0, TCO 6.0, and RoHS compliance. NEC will ship the monitor for $629 in April.
SOURCE: NEC Display