NEC 19" MultiSync EA190M LCD Has a Scheduled Launch for This Month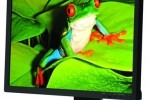 Truth be told, 19" monitors seem to be an ancient past-time, only talked about in hushed whispers, amongst technophiles joking about their parent's sloppy PC setup. Sure, there's a niche for the smaller screen sizes, and it looks like NEC wants to slide right into that spot. They've got a new LCD monitor set to hit shelves some times this month, and it's got some pretty interesting aspects to it that might grab the attention of any working professional out there.
The NEC MultiSync EA190M provides a standard-aspect ratio screen, which is paramount for design professionals who need to look at 5:4 objects rather than 16:9 or 16:10 widescreen. This monitor is aimed directly at business environments, government applications, and education users. The EA190M consumes 50% less energy and contains 50% less mercury than traditional LCD monitors. There is also a one-touch ECO mode that allows users the ability to quickly maneuver between two energy saving modes.
The MultiSync EA190M provides 250 nits of brightness, a 900:1 contrast ratio, 5ms response time, and a 1280x1024 screen resolution. There's a sleek black bezel, 4-way stand, and five visual presets (standard, text, movies, games, and photos). The monitor will begin shipping this month at some point, with an estimated street price of $259. A three-year warranty is included with the price.
[via Hot Hardware]