NEC's VoToL PK-MV300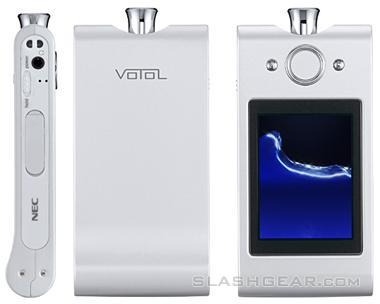 Even if you have a great designing propensity, the NEC's VoToL PK-MV300 is till a very unthinkable of a design. It's designed to be more appealing to the younger crowd. In a nutshell, it's a media player with a difference. It has the shape of a perfume bottle. 
It's even a good media player. The VoToL can play MPEG-2, MPEG-4, and WMV9 videos and also plays MP3, AAC, WMA and Ogg audio. The NEC flaunts its 'liquid gui' which shows the device's battery life, volume etc. It's yet to be launched in Japan next month and as per sources, it shall be priced at about $399.