NBC launching SeeSo comedy streaming service for $4 a month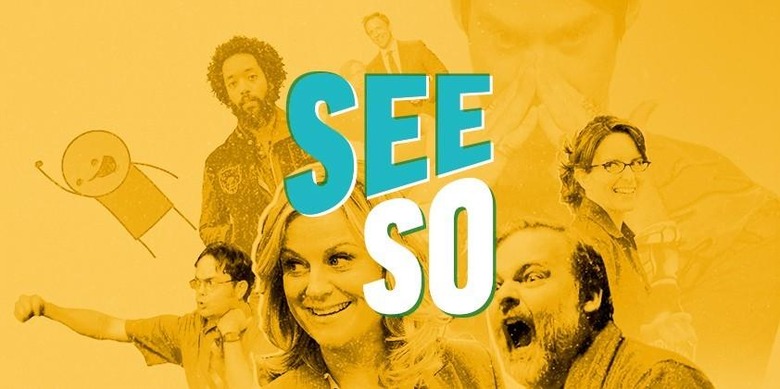 NBC Universal have announced a subscription channel by the name of SeeSo, bringing all manner of comedy-centric shows for a monthly fee. This subscription channel will be based on the web – much like Netflix or Hulu – and will cost users $3.99 per month. There'll also be a free tier – sort of like Hulu – which delivers a set of shows and/or clips to the public to draw in paying users. SeeSo is being launched within Comcast/NBCU and is self-described as a "startup" organization.
SeeSo will include a wide variety of programming, including shows like Saturday Night Live, Parks and Recreation, and 30 Rock. Also included will be several movies – though nothing on the scale of Netflix or Hulu. This system is meant to be a "compliment, not a replacement" for the larger streaming video-on-demand services, so says Evan Shapiro, executive VP of NBCU Digital Enterprises with Variety this morning.
Instead of having users pay a higher price, including all programs from all genres, SeeSo will include comedy programming only for a price slightly cheaper than the bigger guns.
Included on SeeSo will be the following (non-exhaustive) list:
• SNL – all 40 years and day-after-air episodes
• The Office (UK and USA)
• Parks and Recreation
• Late Night with Seth Meyers
• The Tonight Show: Starring Jimmy Fallon
• Saved by the Bell (the original series, we must assume)
• The Kids in the Hall
• 30 Rock
• Monty Python's Flying Circus
Original programming will also be airing on SeeSo. One program will run with the original Upright Citizens Brigade TV show's crew in a new show called "The UCB Show" – Matt Walsh, Ian Roberts, Matt Besser, and Amy Poehler, that is to say. An original animated show will be on SeeSo made by Dan Harmon.
SeeSo will also be streaming live comedy specials and stand-up specials starting in 2016.
A private Beta launch of SeeSo will launch in December, while a full public launch of the system will take place in January, 2016. SeeSo will be launching through SeeSo.com "on everything" and "everywhere" ad free – we can safely assume that means there'll be apps for iOS and Android, at least.