NBA 2K20 player ratings and Xbox One bundles released in detail, on pre-order now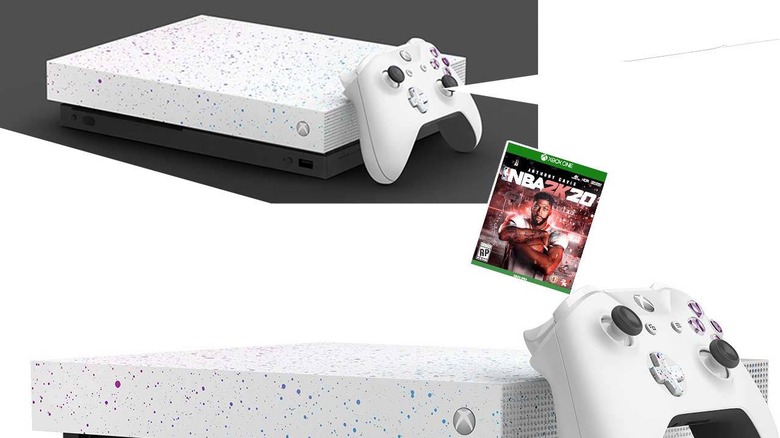 NBA 2K20 was ushered into existence today by a set of player ratings and the reveal of three bundles. Three new Xbox One bundles were shown NBA 2K20 cover athlete Anthony Davis at a special event hosted by Xbox and the folks at 2K Games "to celebrate what's next in basketball culture." Davis showed three models, two for $500, another for $300. The most interesting of the three looked like it was splattered with paint.
One of three of the NBA 2K20 Xbox One bundles revealed this afternoon was the Xbox One X NBA 2K20 Bundle ($499 USD), that'll include the Xbox One X and the game NBA 2K20 in digital format. The next was an Xbox One S NBA 2K20 Bundle ($299 USD) that included a standard Xbox One S and the game.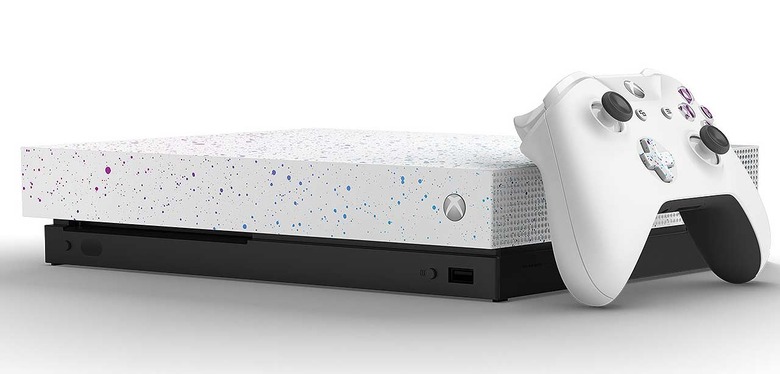 The one that'll throw you for a bit of a loop is the Hyperspace Special Edition Xbox One X NBA 2K20 Bundle. This bundle contains the game and an Xbox One X that's been customized in a couple of different ways. The controller rolls with a white base and star-studded directional cross control, as well as white/magenta buttons.
The casing on the Xbox One X has the same sort of look that's given to the controller's directional cross. All three versions of the Xbox One bundle with NBA 2K20 have a 1TB hard drive, Xbox Wireless Controller, and a "full-game download of NBA 2K20." Customers will also find a one-month trial to Xbox Live Gold and Xbox Game Pass.
You'll need that Xbox Live subscription to play the game, too – so lucky you! Pre-orders for each different NBA 2K20 Xbox One bundle started earlier today, and will be at retailers and the Microsoft Store soon. Inside the U.S., U.K., Canada, Australia, New Zealand, France and Germany, the release date for NBA 2K20 and the bundles is September 6th.
ICYMI Watch the NBA 2K20 Ratings Reveal livestream 👀 Use #2KRatings to let us know your thoughts 👇 https://t.co/L13qOi0TXd

— NBA 2K (@NBA2K) July 16, 2019
1. LeBron James, 97 overall
2. Kawhi Leonard, 97
3. Giannis Antetokounmpo, 96
4. Kevin Durant, 96
5. James Harden, 96
6. Stephen Curry, 95
7. Anthony Davis, 94
8. Paul George, 93
9. Damian Lillard, 92
10. Joel Embiid, 91
Have yourself some in-game ratings, too. Above you'll see the top 10 and the Twitter-based broadcast from this afternoon. Can you imagine being a professional basketball player, having the game decide how skilled you are based on your in-game avatar?