Navman Spirit S100 GPS with Photo navigation & gesture GUI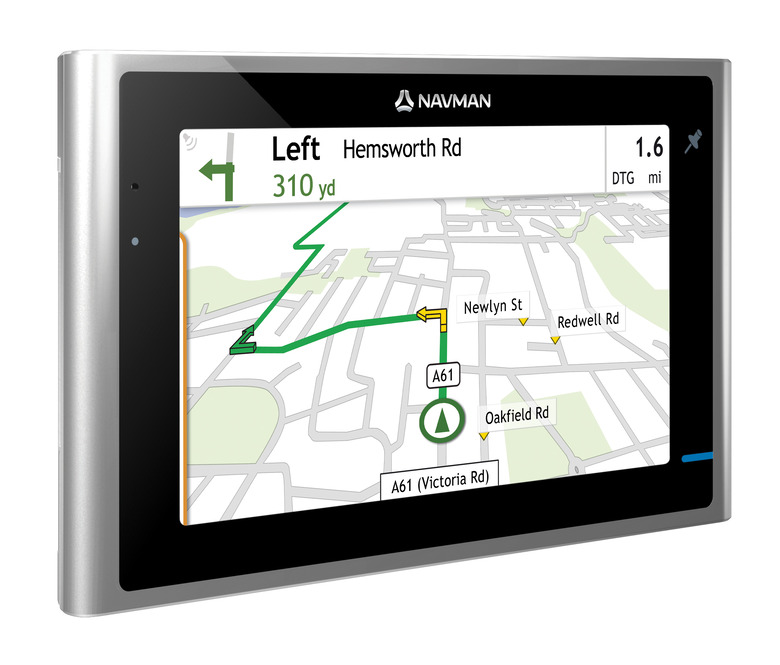 Navman have announced its latest GPS device, the Spirit S100, which squeezes a 4.3-inch touchscreen, NavPix geotagged photo navigation and SiRFInstantFixII into a casing just 13.5mm thick. The S100 has a bevel-free display with Navman's "Glide Touch" interface; gestures such as tap and slide are recognized, similar to those on the iPhone, for use with the predictive text address entry system that can read out each letter typed. The S100 also has text-to-speech turn directions.
The mapping can switch automatically between a pared-down, distraction free overview for general driving and a 3D intersection map for more complicated turns.  Points Of Interest (POIs) can be downloaded through the accompanying desktop software, together with photos of the locations for ease of recognition, and journeys pre-planned and transferred to the S100 before setting off.  It's also possible to create new POIs mid-route.
An MP3 player, 12 months camera safety data and pedestrian mode round out the main specs.  The Navman Spirit S100 will be available in the UK initially come November, priced at £199 ($344).
Press Release:
Navman redefines satellite navigation yet again – introducing the new Navman S100

Navman S-Series S100 packs a groundbreaking suite of new features and services into one of the slimmest portable navigation devices in the world

London, 9th October 2008: GPS pioneer Navman continues to redefine portable satellite navigation with the launch of its exciting new S-Series S100 device. At just 13.5mm thin, the S100 features a sleek 4.3" super flat widescreen – no bevels, just stunning, smooth looks. Navman's revolutionary new ClearView maps and redesigned menu layout make the S100 easy and fun to use, while the addition of Glide Touch makes for simple 'tap and slide' functionality. The range goes well beyond simple A to B navigation by including new and improved features such as 3D city landmarks, NavPix geo-tagged photo navigation, Local Search via Infobel and true Pedestrian mode.

With usability key in the design of the S100, ClearView maps strip away clutter to show simplified graphics and colours, enabling 'at a glance' map reading. While the new Junction Views feature major motorway junctions in realistic 3D to simplify complicated exits or intersections. Jointly developed by Mio Technology's R&D team and global innovation and design consultancy IDEO, the S100 incorporates new "Spirit" software, with its unique Glide Touch user-interface. Users simply tap and slide the touchscreen to open, dock, pan and scroll menus, similar to the latest MP3 players and smartphones.

The Navman S100 boasts the first European Local Search service on a GPS device. Delivered in partnership with local directory search partner, Infobel, Local Search gives you details of nearby shops, businesses, hotels, restaurants and more via the NavDeskTM desktop suite of content and services, allowing users to search and download Points of Interest (POIs) before setting off. NavDesk™ also enables users to pre-plan their route before they set off with 'Route Planning'.

The S100 incorporates a new Capture button enabling users save their own POIs as they discover them; the integral button enables users to instantly store their current location to return to at a later date. While new Smart Economical Routing calculates the most economical route for your journey following postcode or address entry. By assessing the number of turns ahead, Smart Economical Routing uses less fuel without significantly increasing the time to your arrival.

Navman's pioneering NavPix technology is built into the S100 making it simple to navigate using pictures. The online NavPix Library gives access to thousands of geo-tagged images, while over a million free geo-tagged photos are also available via Flickr, the web-based image search which is accessed via NavDesk™ desktop. Destinations that don't always have an address or postcode, such as festivals, parks and beaches, are now also easier to find using geo-tagged photos.

Slim and lightweight at only 13.5mm thin, the S100 is ultra-portable and fits easily in pocket or handbag. The S100 features true pedestrian mode so users can explore more on foot, creating a seamless navigation experience. On-screen 3D landmarks and buildings in cities around the UK also help drivers to navigate more easily in urban areas. And SirfStar Instant Fix II gives Spirit a fast, accurate location fix, even in heavily built-up areas.

The device features an intuitive address entry interface, a predictive text search function and Speaking Keyboard that speaks each letter and number as it's typed, making inputting postcodes and addresses more accurate. And intelligent text-to-speech provides spoken road names and directions for the next turn, enabling drivers to keep their eyes on the road. The new device can also store and play favourite MP3 tracks.

The Navman S-Series S100:

Spirit S100 – £199 RRP, available November 2008

4.3" Super flat widescreen

Ultra slim, lightweight design (13.5mm)

Revolutionary Mio Technology "Spirit" software with Glide Touch

Infobel local search via NavDesk™ desktop

NavPix photo navigation

Enhanced NavDesk™ desktop

Junction Views

Economical Routing

MP3 player

3D landmarks

Pre-loaded safety camera data – free trial*

GPS fix 5 times faster with SiRFInstantFixII

Latest Regional map data

*For a limited period of 12 months. Speed camera availability is variable from country to country depending on the local law. Consumers receive access to speed camera database for one year. Payable subscriptions for the latest updates are available from www.navman.com.