Navigon 7300T, 4300T max and 3300 max PNDs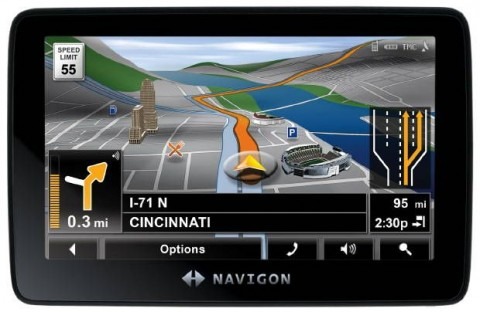 Navigon have announced three new PNDs, each with touchscreen interfaces and 3D mapping.  The Navigon 7300T and 4300T max both get Rand McNally mapping data, with 250 pre-loaded Weekend Getaways, Scenic Tours and Regional Trips; in addition they both have Bluetooth hands-free functionality and spoken traffic alerts.  Meanwhile, the Navigon 3300 max offers more basic GPS services, though still includes Lane Assistant Pro, text-to-speech and Reality View for more accurately displaying exits.
The Navigon 7300T is undoubtedly the flagship of the trio, with inclusive spoken traffic updates, voice address entry and control, both Panorama View 3D and Landmark View 3D to better illustrate your surroundings and Zagat ratings and reviews.  The Navigon 4300T max drops the standard Zagat info (it's a $20 option) and has a more homely casing, but there's still a 4.3-inch widescreen touchscreen and free spoken traffic updates.
All three should go on sale in Q2 2009, with preorders starting March 9th.  The Navigon 7300T has an MRSP of $399.99; the Navigon 4300T max has an MRSP of $279.99; and the Navigon 3300 max has an MRSP of $199.99.
Press Releases:
New NAVIGON 7300T GPS Takes 3D Views, Traffic Updates and Voice Command to a New Level

Device also includes new intelligent NAVIGON MyRoutes™ feature that learns from individual driving habits

CHICAGO, MARCH 2, 2009 — NAVIGON, the leading innovator in the navigation market, today announced the next generation of NAVIGON's highly acclaimed 7000-series platform, the NAVIGON 7300T. The ultra-stylish personal navigation device (PND) showcases an array of innovative features, including a new level of 3D visualization showing surrounding landscapes and important landmarks, Free Real-Time Spoken Traffic Updates and next-generation Voice Control, helping the user to control the device hands-free by speaking a wide variety of commands.

For the first time, NAVIGON combines its highly praised Panorama View 3D and Landmark View 3D features in one device, the NAVIGON 7300T. This gives the user a real 3D experience showing surrounding landscapes as well as important landmarks. Panorama View 3D brings a true 3D experience to the NAVIGON 7300T's map using NASA terrain height data to provide geographic guidance complete with rolling hills and digital elevations. Landmark View 3D shows hundreds of richly-textured 3D landmarks across the U.S. and Canada such as the Empire State Building and the White House, as well as sports stadiums from coast to coast.

As an industry-first, the NAVIGON 7300T includes the new intelligent NAVIGON MyRoutes™ feature, taking individualized navigation to a new level and introducing a unique way of intelligent and personal route planning. The feature provides up to three route choices with distance and ETA calculated for all entered destinations, factoring in speed limits, construction and traffic as you're driving. All routes are clearly displayed on a map with ETA and driving time giving the driver a choice. The system continuously saves the driver's individual driving data in order to provide the best individual route possible and recommends a route based on the user's driving habits, the day of week and time of travel.

NAVIGON takes its pioneering tradition in real-time traffic a step further by making it even easier to recognize issues ahead and route around traffic. The new NAVIGON 7300T now speaks traffic updates in addition to presenting them on the display. It also displays an alternative route around traffic on a map including the up-to-date ETA and distance. NAVIGON offers spoken real-time traffic updates for free for the life of the device. No subscriptions or additional hardware needed. Covering 95 markets across the U.S. and Canada, the NAVIGON 7300T will audibly alert you of traffic troubles and provide alternate routes.

The NAVIGON 7300T also boasts an all-new Voice Address Entry and Control feature, that not only makes inputting addresses simple, but also allows the user to control the device hands-free by speaking a wide variety of commands. This means that the driver can use the menu, adjust the volume or answer phone calls simply using his or her voice. Additionally, NAVIGON has designed the new voice-based feature to operate using more casual, less specific, language. For instance, the device volume can be increased by saying a variety of commands in much more casual language, such as "increase volume to eight" or "please make it louder."

NAVIGON's 7300T device is the first GPS system on the market to feature Rand McNally Scenic Routes content. Based on Rand McNally's Best of the Road ® series, the NAVIGON 7300T includes over 250 routes such as Weekend Getaways, Scenic Tours and Regional Trips. These routes show the most beautiful vistas and breathtaking landscapes the U.S. and Canada have to offer. Scenic routes are a perfect option for a unique vacation to enjoy with the whole family or as an alternative to normal highway driving.

Building upon NAVIGON's tradition of developing products that channel the company's heritage of fine German engineering and design, the NAVIGON 7300T takes style to a new level with an extra-wide, flat-panel touchscreen enclosed in a sleek, frameless piano black housing. NAVIGON's design focus goes beyond the exterior of the 7300T. When compared with other GPS devices, NAVIGON's rich maps and menus provide for a more sophisticated, intuitive interface.

"NAVIGON continues its pioneering tradition of driving more useful and innovative features into every new product we introduce," said Michael Roach, NAVIGON's president for the Americas. "The 7300T is the pinnacle of NAVIGON's vision, combining our uncompromised design focus with a set of unmatched, relevant, next-generation features. The 7300T is truly a stand-out, delivering an experience that adds a greater level of peace of mind, productivity, and adventure than anything else on the market today."

In addition to a number of new features, the NAVIGON 7300T is equipped with features that have become hallmarks of NAVIGON's premium navigation experience. Reality View™ Pro and Lane Assistant Pro provide that extra direction when you need it most—so you'll never miss an exit or a turn again. Advanced text-to-speech technology helps you keep your eyes on the road by providing spoken driving directions and street names. Only NAVIGON can show where to wine, dine, and unwind with a built-in, exclusive ZAGAT guide that includes more than 27,000 listings across the U.S. and Canada spanning hotels, nightclubs, attractions and golf courses. With NAVIGON's exclusive Exit Guide feature, you can take the guesswork out of highway travel by searching upcoming exits for the restaurant, rest area, hotel or gas station of your choice. DirectHelpSM provides instant access to directions and phone numbers to nearby emergency service providers. A new Clickable POIs feature guides you to destinations shown on the map with one click. The latest generation of NAVIGON software makes entering and finding information fast and simple with fewer clicks.

The NAVIGON 7300T sells for $399.99 (MSRP) and will be available at retailers in Q2 2009. It is compatible with NAVIGON's optional FreshMaps accessory, which provides up to 8 map updates over two years for $79.99 (MSRP). If the user activates FreshMaps within 30 days after purchasing the device, the price is only $39.99.

For more information and images, please visit www.navigon.com.

The NAVIGON 7300T features include:

NAVIGON MyRoutes™

Free Real-Time Spoken Traffic Updates

Voice Address Entry and Control

Panorama View 3D and Landmark View 3D

Rand McNally Scenic Routes

Clickable POIs

Reality View™ Pro

Lane Assistant Pro

Fast Destination Entry

Bluetooth® Hands-Free

Advanced Text-to-speech

Zagat® Ratings and Reviews

Exit Guide

DirectHelpSM

Speed Assistant

Multi-Destination Trip Planning

Automatic Standby Feature

Favorites as POI

Coordinate Input

Automatic Day/Night Mode

About NAVIGON

NAVIGON Unveils First Intelligent GPS Devices that Learn from Individual Driving Habits

NAVIGON 4300T max and 3300 max units pack NAVIGON MyRoutes™, Spoken Traffic Updates and Clickable POI features into a sleek and slim 4.3 inch design

CHICAGO, MARCH 2, 2009 — NAVIGON, the leading innovator in the navigation market, today announced two new widescreen GPS devices, the NAVIGON 4300T max and 3300 max. These are the first intelligent GPS devices on the market to deliver personalized route recommendations based on individual driving habits.

NAVIGON MyRoutes™

As an industry-first, the NAVIGON 4300T max and 3300 max both include the new intelligent NAVIGON MyRoutes™ feature that takes individualized navigation to a new level and allows a unique way of personal route planning. The feature provides up to three route choices with distance and ETA calculated for all entered destinations, factoring in speed limits, construction and traffic as you're driving. All routes are clearly displayed on a map with ETA and driving time giving the driver a choice. The system continuously saves the driver's individual driving data in order to provide the best individual route possible and recommends a route based on the user's driving habits, the day of week and time of travel.

"Our new NAVIGON MyRoutes feature proves once again that NAVIGON is truly leading innovation in the GPS category by offering the user an intelligent and individualized route recommendation," said Michael Roach, NAVIGON's president for the Americas. "While others continue to compete on price at the expense of the user experience, NAVIGON is dedicated to delivering superior features and superior value across our portfolio. Any device can get you from point A to point B, but the real challenge is delivering an experience that helps our customers overcome the challenges they face every day on the road. Both the NAVIGON 4300T max and the 3300 max meet those challenges."

The NAVIGON 4300T max and 3300 max represent the next generation of portable navigation and carry forward NAVIGON's uncompromised tradition of innovative and useful features that clearly showcase unparalleled value relative to anything else in the market. The NAVIGON 4300T max is packed with premium features that assist with any challenge you may face on the road – including traffic, construction, phone calls and poorly marked exits. Additionally, the value-oriented NAVIGON 3300 max delivers an exceptional array of stress-busting features that provide more guidance than comparable products.

The NAVIGON 4300T max

The NAVIGON 4300T max delivers a navigation experience unlike any other, offering a unique combination of style and exclusive, useful features. Boasting a wide 4.3" touchscreen with a chrome-accented, piano-black housing, the NAVIGON 4300T max helps you overcome anything the road throws at you. Real-Time Spoken Traffic Updates automatically notify you of upcoming traffic congestion and re-route you with the touch of a button. Traffic alerts are not only delivered audibly, but are also free for the life of the product. And for the first time on a GPS device, the NAVIGON 4300T max includes valuable Rand McNally navigation content including Best of the Road®, Weekend Getaways, Scenic Tours and Regional Trips. An all-new Bluetooth® hands-free application lets you manage your phone calls while keeping your hands on the wheel.

The NAVIGON 4300T max also showcases many of the trademark premium features that have placed NAVIGON as the leading innovator in the market, such as Reality View ™, Text-to-Speech, Exit Guide and Lane Assistant Pro. With a combination of superior features and style, the NAVIGON 4300T max is the clear choice for those looking for a complete navigation experience.

The NAVIGON 3300 max

The NAVIGON 3300 max provides more for less. The device is fully loaded with more useful and better guidance than any other device in its class offering a superior value that goes well beyond the basics.

Featuring a wide 4.3" touchscreen, the sleek and slim NAVIGON 3300 max packs a host of stress-busting features to get you where to want to go with fewer headaches along the way. Innovative features like Reality View™ for Exits and Lane Assistant Pro provide that extra direction when you need it most—so you never miss an exit or a turn again. Keep your eyes on the road with advanced text-to-speech technology that provides spoken driving directions and street names. With NAVIGON's exclusive Exit Guide feature, you can take the guesswork out of highway travel by searching upcoming exits for the restaurant, rest area, hotel or gas station of your choice. DirectHelpSM provides instant access to directions and phone numbers to nearby emergency service providers. A new Clickable POIs feature guides you to destinations shown on the map with one click. The latest generation of NAVIGON software, along with NAVIGON's SmartSpeller feature to help guide through the entry process, makes entering and finding information fast and simple with fewer clicks. Basic yet brilliant, the NAVIGON 3300 max delivers useful features at a greater value to help make your everyday travel less stressful.

The NAVIGON 4300T max and 3300 max devices sell for $279.99 and $199.99 (MSRP) respectively and will be available at retailers in Q2 2009. Pre-orders can be placed at the following retailers starting March 9: Amazon.com, CompUSA.com, Crutchfield.com, JR.com and TigerDirect.com.

NAVIGON offers a variety of additional content and upgrades for both devices. NAVIGON's optional FreshMaps accessory provides up to 8 map updates over two years for $79.99 (MSRP). If the user activates FreshMaps within 30 days after purchasing the device, the price is only $39.99. Zagat® Ratings and Reviews showing where to wine, dine, and unwind are available as an upgrade for $19.99 (MSRP). The NAVIGON 3300 max is also compatible with NAVIGON's new Real-Time Spoken Traffic Updates and Rand McNally Scenic Routes accessories, with respective prices of $99.99 and $19.99 (MSRP).

For more information and images, please visit www.navigon.com.

The NAVIGON 4300T max features include:

Free Real-Time Spoken Traffic Updates

Rand McNally Scenic Routes

Bluetooth® Hands-Free

Reality View™ Pro

Both the NAVIGON 4300T max and 3300 max devices feature:

NAVIGON MyRoutes™

Clickable POIs

Lane Assistant Pro

Reality View™ for Exits

Fast Destination Entry

Advanced Text-to-speech

Exit Guide

DirectHelpSM

Speed Assistant

Multi-Destination Trip Planning

Automatic Standby Feature

Favorites as POI

Coordinate Input

Automatic Day/Night Mode