Native Facebook, Instagram, Messenger apps coming to Windows 10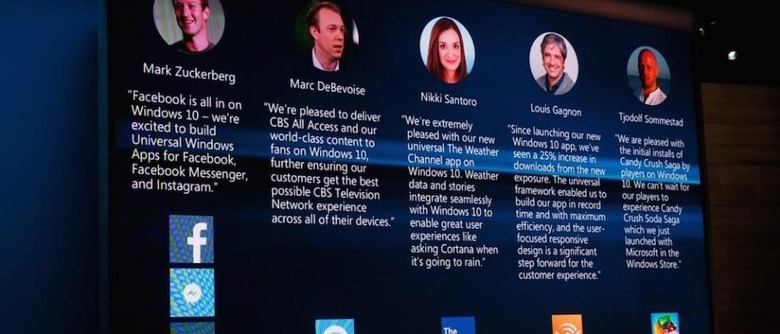 Microsoft's long-awaited Windows 10 event has finally begun this morning, and the company isn't wasting any time in revealing how well the new operating system is doing after launching this past summer. To start off, Microsoft is boasting of the developers that have committed to make universal Windows 10 apps, which will run natively and provide users the same experience on PCs, tablets, and phones. One of those big names is Facebook.
While Mark Zuckerberg wasn't present himself, Microsoft showed a slide with a quote from the Facebook CEO that confirmed Facebook, Instagram, and Facebook Messenger apps were coming to Windows 10. "Facebook is all in on Windows 10 — we're excited to build Universal Windows Apps for Facebook, Facebook Messenger, and Instagram."
Other companies pledging their support for Windows 10 highlighted alongside Facebook include CBS, with their All Access program, The Weather Channel, with their own universal app, and the makers of Candy Crush, which just launched Soda Saga on the Windows Store.
As further evidence of Microsoft's success with Windows 10, it was revealed that the operating system has already been installed on more than 110 million devices, having only been available for 10 weeks now. Microsoft added that that was made up of 102 million consumer devices, and 8 million enterprise machines.