Native Applications Now Account for 50% of Mobile Data Volume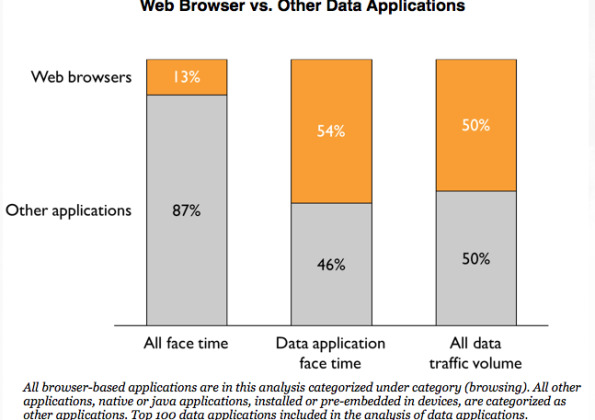 For most, having a smartphone means that you get to enjoy pretty much everything you want, right from the gadget in your hand. Surfing the Internet, playing games, watching media, and listening to music are all things you can do from your smartphone. One of the most popular things to do is browse the Web, in one way or another, and while the Browser pre-installed on your device may be good enough and still one of the best ways to do that, it looks like applications are starting to steal some of the show, as a new report from a analytics company Zokem states that native apps now account for 50 percent of the total mobile data volume.
The report comes from the Finnish-based mobile analytics company, Zokem, and this is the result of no small feat. The study took place from 2009 to 2010, and analyzed over 10,000 smartphone users, and somewhere in the ballpark of 6.5 million smartphone application usage sessions in 16 countries. So, this isn't just the result of 16 people surveyed, and it does indeed show the way that applications, both native and third-party, have grown over the years.
The report states that while the mobile Browser, like the iPhone's Safari Browser, and the pre-installed Browser on Android-based devices, is still the most popular consumer of mobile data, applications are quickly catching up. According to the report, people spend 54% of the time with the Browser, while it accounts for 50% of the total data volume. On the other hand, applications account for 46% of data application time, while they bear 50% of the total data volume as well.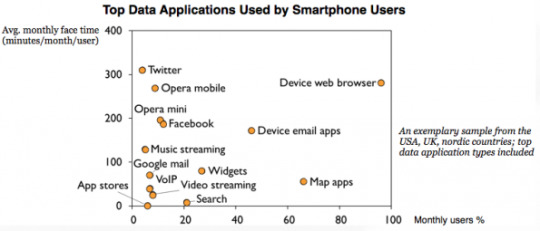 On average, the report also states that people tend to open their Web Browser at least once a month, and yet amass about 300 minutes per month collecting data. The report also shows an interesting fact regarding mobile usage of Facebook and Twitter, two social networking giants. Facebook is engaged by 12% of smartphone owners, but it ranks up 188 minutes of total usage time. Versus Twitter, which only 4% of smartphone owners fire up, and yet it amasses a whopping 311 minutes of total usage time. These numbers are ranked on a per month basis, too.
In the end, Zokem's founder Dr. Hannu Verkasaio says that while mobile Browsing through the Web Browser accounted for nearly 80% of mobile data volume only a few years ago, applications are changing results drastically. However, the Browser is still sticking around, keeping strong in its usage efforts. Verkasaio says that the usage of applications is increasing so quickly, because the applications generally provide a better user experience, which many people would probably agree with.
[via ReadWriteWeb]