National Geographic cut cost of global conversation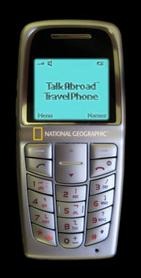 As adults and young people alike grow more dependent on their cellphones with each passing day, I know of a fair few cases where the lowpoint of a holiday abroad has been returning to a sky-high bill, fulsome with roaming charges.  Often unbeknown to users (at least on that first trip – they tend to be wary after that), when outside of your normal network you're charged for the international portion of any call made to your cellphone.  While those in the US are used (if not happy) to paying for incoming calls, this isn't the typical business model in Europe and so can come as a shock.
Operators are ponderously making changes and reducing charges, but in an unusual twist National Geographic have partnered with service-provider Cellular Abroad to sell a pre-paid handset with UK number and unlimited incoming calls when in any of up to 65 countries across the globe.
For $199 you get a basic quad-band GSM, unlocked handset, 30 minutes bundled talk-time, a set of international chargers and round-the-clock support via a free phone number.  It's promised to work in over 100 countries, and while rates for outgoing calls are yet to be announced they're apparently "affordable."
Released in March this year, it's available to pre-order now.