NASCAR FanVision Controller hands-on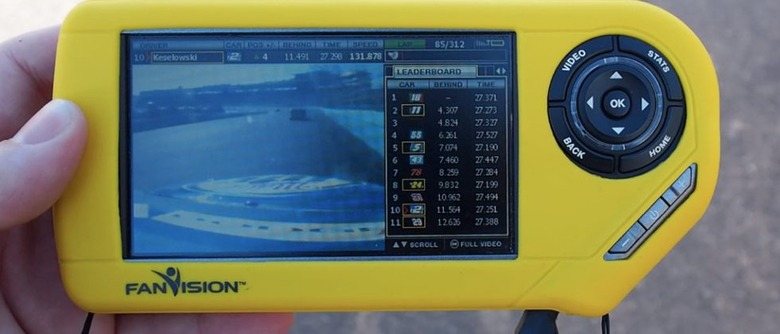 NASCAR is one of the biggest and most popular spectator sports in the nation. They sell more seats and tickets than any single sporting event, have millions of fans, go extremely fast, and the sport uses some awesome technology that often gets missed in this world of smartphones and tablets. What you see below is the FanVision Controller that makes race day even more exciting. With live video, audio, instant replays and more read on to see how impressive this race day technology really is.
The FanVision Controller is the ultimate companion for any race fan for the sheer amount of options, data, and video it provides. For more details you'll want to check out our previous coverage and interview with a VP from FanVision. Previously if you want to listen to commentary during a race while watching it live you'd need multiple devices. With the FanVision Controller you get that and much much more all in one useful device. Since many don't know about the technology behind NASCAR, while SlashGear was at the AdvoCare 500 Sprint Cup this weekend in Phoenix, Arizona, we decided to give it a quick look.
The video below will give you a hands-on look at this impressive device, although being their live is an entirely different beast all together. The FanVision provides live video and audio broadcast, 8 in-car cameras as well as front, side, and rearview options. Stats, detailed driver comparisons, official leader times (live), radio scanners to listen in on each race team and their pit crew, or even the overhead spotter. You'll also get driver stat cards, team information and detailed breakdowns on points to win the Cup. This is truly an all-in-one solution that delivers the best of all worlds on race day.
Pretty neat right? Oh and did we mention instant replay? After seeing that crazy (and vindictive) crash by Jeff Gordon Sunday, we were able to get live instant replay within a matter of seconds thanks to the FanVision. It was quite awesome watching a live view from the hood of his damaged race car as he slid into the rest of the drivers late in the race. The FanVision employs a 4-inch display, it's wrapped in rubber and is quite durable, and can even handle the elements on race day. The controls on the side let you pan between fullscreen and stat view, select the driver of your choice, control instant replay and anything else you'd like. Panning through the in-car cameras was a breeze, and as you saw on video there's no lag whatsoever. This was live, up to the second, and brings racing fans closer to the action than ever before.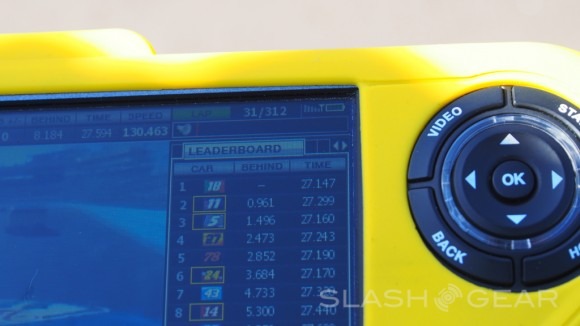 The interesting thing here is the use of UHF (Ultra High Frequency) radios instead of the usual WiFi or other options. With thousands of fans all with smartphones and cameras, press using WiFi, and networks recording live FanVision had to find a way to provide fast, fluid, and uninterrupted video and data. UHF, which is that old (yet stable) TV channel technology is perfect for the task. Providing an excellent viewing experience no matter where we were on the track.
Everything you look at when you're at a race on the FanVision Controller is curated by the dedicated FanVision staff at the race. FanVision works with the cameras that are on-site and the information that comes direct from the source, updating every statistic and element as it changes.
"We're not doing any kind of production, we don't have people with cameras that are in the pits or in the garages or anything like that. We're taking content directly from, as an example, in Phoenix, we're taking the SprintVision content that's being fed to the track. So we're not – in essence – taking ESPN's content. And as a matter of fact, the radio broadcast for this weekend will be MRN. So if we're at an IFC track, it's MRN radio, and if we're at an SMI track, then it would be PRN radio."
The digital scanner inside the device also had multiple options. You could simply listen to the live commentator broadcast for their input, or choose to listen to the driver of your choices crew, staff, and spotter. Even better was the "random" mode so we could hear the commentator, but get cut in and out of the racer of our choices communications with his team. Then you'll hear the best of both sides. Listening to teams talk about why and when to pit brought an entire new level of experience to the race.
The FanVision is everything you get at home as far as video, replays, and stats, as well as an audio perspective only FanVision provides their customers, all while enjoying the event live on site. It really is a sight to see if you've never been. Being able to enjoy the extremely loud noise and heat from the engines roar, then plug into the world of FanVision really was a fun experience. You can rent your own at NASCAR races nationwide.
SlashGear was able to enjoy a Pace car ride reaching over 120 mph, get video from the NASCAR garage and pit, and a few other neat videos so stay tuned for more details. Oh and go Brad Keselowski!