NASCAR driver Brad Keselowski talks the technology illusion up to Sprint Cup Series title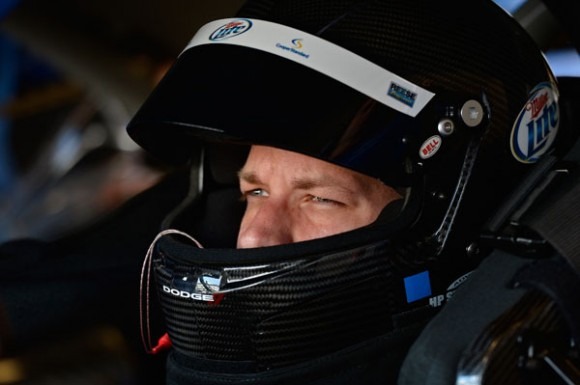 We had the opportunity to chat briefly with NASCAR driver and contender for the upcoming Sprint Cup Series title Brad Keselowski on the perception that NASCAR is devoid of technological innovation – and how false that perception is. As it turns out, for those of you unfamiliar with the way a driver interacts with his pit crew, there's been a massive amount of new technology appearing in NASCAR racing over the past few years. The driver is part of an experience now that's not just based on how well he or she can drive a car, but how well they're able to make use of the many technologies around them. NOTE: Our own Vincent Nguyen will be heading down to the pits at the Sprint Cup AdvoCare 500 this weekend – check below for details and watch Keselowski LIVE right along with us!
As Keselowski made clear, NASCAR is not the same sport it was back at the start – this is no bootlegging drag. Instead as Keselowski reaches for his first ever NASCAR Sprint Cup Series title (just a few points behind leader Jimmie Johnson at the moment), he's got many tools at his disposal not just to prepare for the race, but to blast through the track on race day with the team's pit crew closer than ever before. And with technology inside the vehicle that's well beyond what teams had only a few years before.
[aquote]If you look at NASCAR today, the perception is that there's very little technology while in reality it's the exact opposite.[/aquote]
SlashGear: How would you describe the way the technology you use on and off the track today affects how you drive on race day?Brad Keselowski: If you look at NASCAR today, the perception is that there's very little technology while in reality it's the exact opposite. As a team we continue to push the envelope to be smarter, to be better prepared, and to communicate in better ways. That's all part of the picture. We're always evolving new technologies that can help us do those things.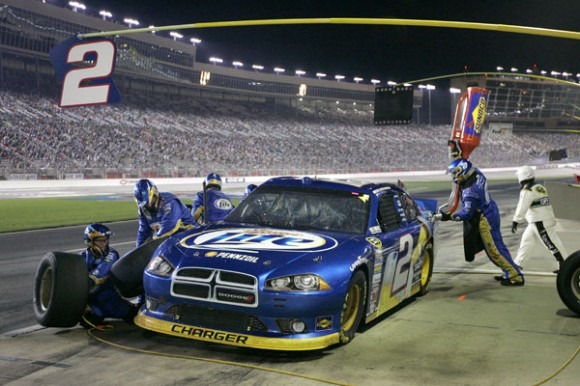 SG: Has there been any technology or breakthrough over the past few years that has changed the way you race?BK: Technology has definitely changed the way we race. The biggest thing is that we communicate a lot better. Communication is so important in NASCAR – between drivers, crew chiefs, crew members, etcetera. That extra bit of communication goes across several different forms of technology that make it stronger.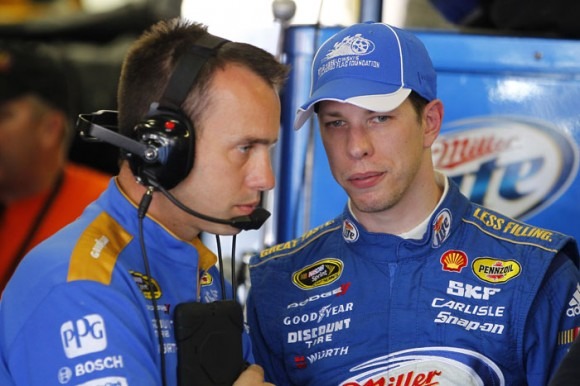 SG: How would you say the communication innovations of the past few years have changed the way the sport is perceived (or portrayed) by the media?BK: I think that the key thing for our sport is that technology is constantly being integrated – there are some fascinating new technologies that we've implemented. But we do it all behind closed doors; which is both good and bad.
Good because we want to keep those secrets so our competitors don't get them. Bad because the perception of the sport is that we don't have it. It's a very tricky line to walk.
SlashGear will be attending the AdvoCare 500 NASCAR Sprint Cup at the Phoenix International Raceway on Sunday, the 11th of November with a full schedule ahead of us (including the big race itself starting at 3PM ET!) We'll be covering the race all day long and jumping in on the pits for up-close and personal peeks at the cars before they burn up the track for one of the most important races of the year – have a peek at our basic itinerary here:
1. Pace Car Ride at speeds of 120+ MPH

2. Tour of NASCAR garage

3. Driver's Meeting

4. Meet and Greet with General Motors Racing's Chevrolet program manager for NASCAR's top-tier Sprint Cup Series Alba Colon

5. AdvoCare 500 race (312 laps, 312 miles) Sunday, Nov. 11, 3 p.m. ET on ESPN with LIVE coverage from SlashGear!
So stick with us through the weekend for all of the hot action straight from the pits! And be sure to comment with any questions you've got or requests you have for us and we'll see what we can do!