NASA's New Mars Image Shows Sandy 'Steps' In A Big Impact Crater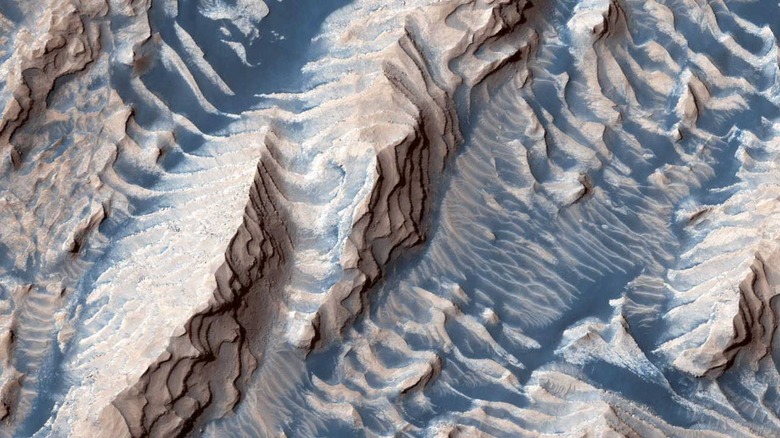 Southwest of Mars' Arabia Terra region lies a landmark called Danielson Crater, an impact crater that has existed on the planet for 'millions or billions' of years, according to NASA. At some point after the crater formed, sediment began to settle into the large hole in layers, slowly becoming cemented into place. Eons of formation and erosion have resulted in a striking landscape, one recently shared by NASA in a new image.
READ: NASA snaps photo of a violent icy avalanche on Mars
Danielson Crater measures around 42 miles across, according to NASA, which says that some cemented sediment layers in the crater are more resistant to the effects of erosion than others.
The stronger layers have managed to resist erosion in ways the weaker layers couldn't, resulting in the slow formation of what appears to be 'steps' made of rock.
These steps are covered in sand that is blown across the rocky crater, covering them with a layer that appears bluer in the image above. NASA says the photo was captured by its Mars Reconnaissance Orbiter (MRO) spacecraft and that it features contrast-enhanced colors to better show the difference between rock and sand.
According to the HiRISE website, this image was captured by MRO on June 10 from an altitude of around 171 miles. Each pixel of the image represents nearly 20 inches, according to NASA, which says the image is oriented so that the upper portion is north. The new image is a stereo pair with this previously shared photo: