NASA's latest test in preparing for a manned mission to Mars began on Friday last week, with six people entering a small dome in Hawaii where they will remain for one full year. The voluntary isolation experiment has a crew of four Americans; a pilot, architect, doctor/journalist, and soil scientist; along with a French astrobiologist and German physicist. The group will live together in a dome that measures 36 feet wide and 20 feet tall, and can only outside if wearing a full spacesuit.
The project is called the Hawaii Space Exploration Analog and Simulation, or HI-SEAS. It's taking place on Hawaii's Mauna Loa volcano, as the barren environment offers somewhat of a semblance to Mars, with no animals or vegetation, not to mention its rocky landscape.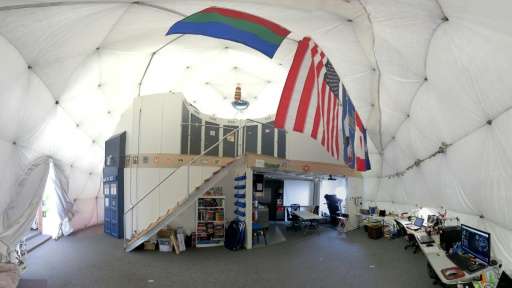 The team members each have their tiny rooms, with just enough space for a cot to sleep on and a desk. In addition to the cramped quarters, they'll have limited access to the internet, and must live on food like canned tuna and powdered cheese.
Two previous Mars experiments have already been held in the Hawaii dome, one for four months and another for eight. The main purpose is for NASA to study and understand the conflicts that will arise with six people living together in a small space with little privacy, fresh air, or food. While astronauts' expeditions to the International Space Station are only about six months long, a manned trip to Mars is expected to last from one to three years.
HI-SEAS chief investigator Kim Binsted says they expect interpersonal conflicts, as they're impossible to avoid over such a long duration, but the goal is to "help people be resilient so they respond well to the problems and can resolve them and continue to perform well as a team."
VIA Phys.org
SOURCE Live From Mars