NASA's Curiosity takes photo of future stomping grounds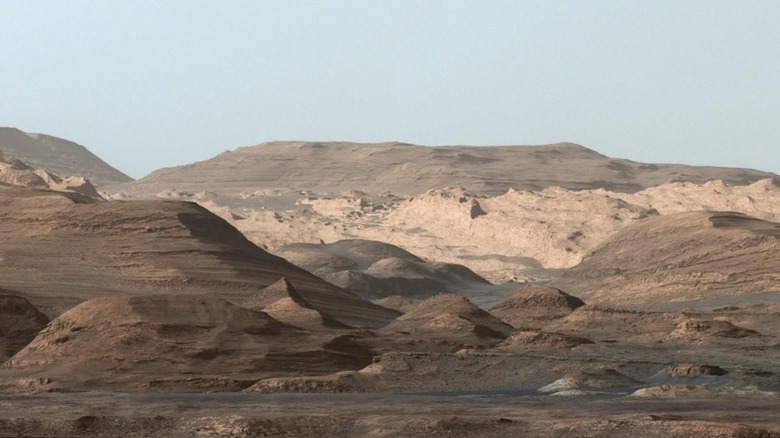 NASA's Curiosity rover is still puttering around the Red Planet, drilling small holes and taking pictures and giving its human operators better insight into humanity's future home away from home. Over the weekend, the space agency published a composite image of the upper region of Mount Sharp, Curiosity's future stomping grounds, taken by the rover on September 9. In it we get a look at a beautiful landscape not so different from our own.
Says NASA, late last month Curiosity drilled its eighth hole on Mars — and of those eight holes, this was the fifth it drilled since arriving at Mount Sharp. It first arrived in the region a year ago, and is presently located in Mount Sharp's lower slopes. That area is full of sandstone, and is called the Stimson Unit.
Soon, Curiosity's operators will be directing the rover toward a new location — away from Big Sky, where it just wrapped up drilling — to take additional samples. The image you see above is the result of two long range photos of the area's higher regions, which Curiosity took last month.
The foreground of that area — about a couple miles ahead of the rover — is a ridge full of hematite. Further then is an area full of clay minerals, says NASA, followed by buttes with high level of sulfate minerals. This represents a series of layers composing Mount Sharp, and could provide details about water's involvement in early Mars' environments.
NASA plans to explore the region pictured over the coming "months and years."
SOURCE: NASA