Anyone who lives in the western portion of the US knows that this has been a terrible wildfire season. Much of the state of Colorado has been engulfed in flames, often from the stupidity of campers burning fires during fire bans or people tossing lit cigarettes out of car windows. California has suffered from some of the same fire issues this summer.
Smoke in Colorado has been so heavy that warnings have been issued for air quality and some days it's difficult to see the mountains only a few miles away due to smoky haze. This image is from NASA and it shows a colorful representation of smoke, dust, and other aerosols that are in the atmosphere around the planet.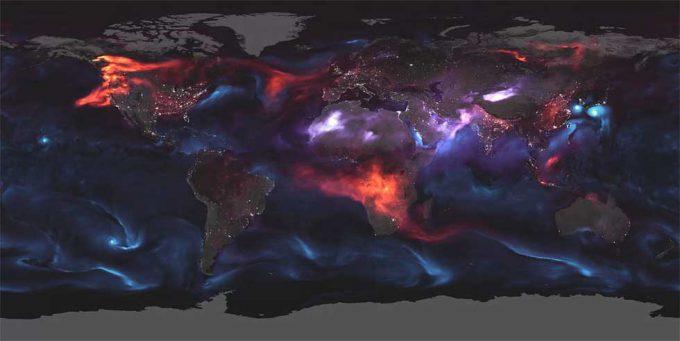 The orange color covering much of the western US is smoke from those wildfires. The image was created with data combined from multiple sensors on satellites orbiting the earth including the Moderate Resolution Imaging Spectroradiometer (MODIS) sensors on Aqua and Terra satellites. Data was also gathered from ground sensors to create this colorized image.
Some of the clouds of dust seen in the image are the result of weather patterns like Hurricane Lane and typhoons off the coast of Japan. We can also see in the image that the heavy smoke from wildfires in the western US has drifted well out over the ocean.
The key tells us that the bright orange is black carbon from those fires, the purple is dust, and the white-blue areas are sea salt. The image represents conditions as seen on August 23, 2018. This image was created entirely with mathematics to bring data from the various sensors together and the colors are artificial.
SOURCE: Space.com