NASA using selective laser melting to build rockets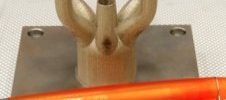 The Marshall Space Flight Center in Alabama is getting its science-fiction groove on by using selective laser melting, also known as SLM, to create the metal parts needed for heavy-lift rockets. What makes this cooler is that SLM is basically 3D printing, something that saves millions in construction costs. According to NASA, this is the future of manufacturing.
The two primary benefits that come with using selective laser melting is safety and cost-effectiveness. The method is being used to create the parts needed for the U.S.'s upcoming flagship rocket. A variety of the created parts will be hot-fire and structurally tested using a J-2X, a Space Launch System upper-stage engine.
Says the Marshall Center's advanced manufacturing team lead Ken Cooper, "Basically, this machine takes metal powder and uses a high-energy laser to melt it in a designed pattern. The laser will layer the melted dust to fuse whatever part we need from the ground up, creating intricate designs. The process produces parts with complex geometries and precise mechanical properties from a three-dimensional computer-aided design."
Another benefit is the speed at which parts can be created, with the Engine Office's integration hardware lead stating that manufacturing time with this method goes from months to weeks or days, depending on the part. In addition, the lack of welds means that the parts are stronger than their traditional counterparts. If all goes according to plan, selective laser melting will be used to manufacture various parts of the Space Launch System's first test flight slated for 2017.
[via NASA]