NASA says no indication of Lovell having right to sell famed Apollo 13 checklist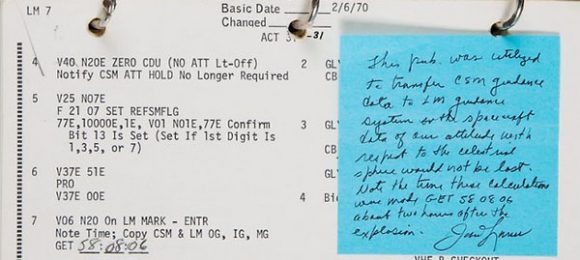 About a month ago in early December, I mentioned that Apollo 13 mission commander James Lovell had offered the checklist that he used to calculate required figures to return the stricken Apollo 13 spacecraft and crew to earth after an explosion. That checklist was offered up for auction via Heritage Auctions and ultimately the checklist brought $388,000.
At the time we learned that the checklist had sold, I wondered if NASA would be coming back and laying claim to the property. NASA has laid claim to all moon rocks and has arrested people for selling the rocks. It made sense to me that the checklist would be considered NASA property as well. NASA is now blocking the sale of the checklist and asserting that Lovell had no right to sell the document.
Lovell signed an affidavit with Heritage claiming he had title to the document. However, NASA is claiming that there is no indication the document title was ever transferred to Lovell. NASA said in a statement to the AP, "Only NASA has the authority to clear NASA property for sale." NASA is also questioning the sale of other space items that Heritage has auctioned off including a lunar module identification plate and a hand controller. Heritage has delayed the final sell of the checklist and is awaiting the outcome of the.
[via ABC News]