Auction nabs $380,000 for Apollo 13 checklist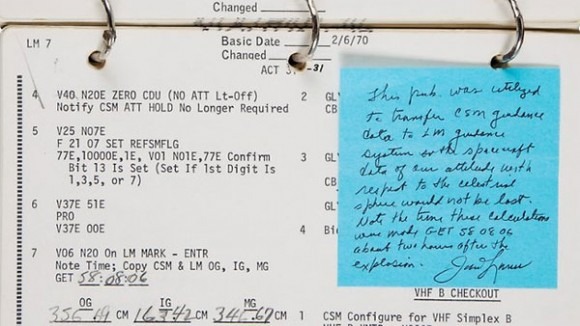 During the space race in the 60's and 70's NASA sent several mission to the moon. Of all those manned moon missions, the only one that wasn't successful was Apollo 13. This is the mission where the oxygen tank exploded after the ship had been on path to the moon for two days. This is also the mission where the infamous "Houston, we've had a problem" comes from.
The chart that the astronauts on the ill-fated mission used to determine their location in space went up for auction recently. Without the chart the crew of Apollo 13 would not been able to get back home in their damaged ship. The chart has the handwriting of commander James Lovell used to determine the correct angle of descent for the spacecraft back into Earth's atmosphere.
The huge $380,000 price paid for the piece of space history makes it the highest selling price for an item from a moon mission that never actually made it to the moon. I find myself wondering if that list is still considered government property along the lines of the moon rocks that returned on all the moon missions.
[via The Australian]