NASA puts Groot and Rocket Raccoon on official space station patch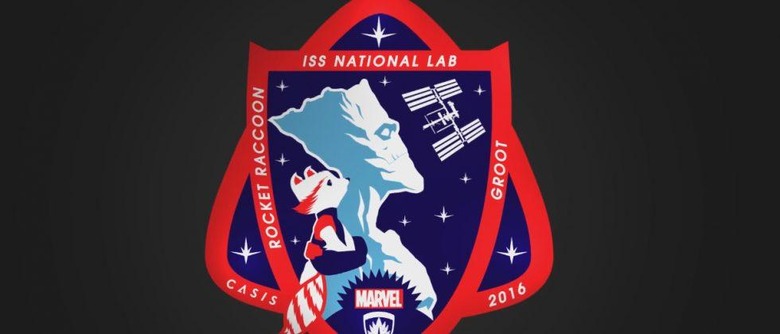 Groot and Rocket Raccoon, the talking racoon and tree from Marvel's Guardians of the Galaxy, are becoming a part of official NASA history. The pair have been chosen by space agency to adorn this year's mission patch for the International Space Station's National Laboratory. The adorable patch was revealed by the Center for the Advancement of Science in Space (CASIS) at San Diego Comic-Con.
The patch's design features Rocket sitting on Groot's shoulder, while both look up at the sky as the ISS flies overhead. Along with the Marvel logo at the bottom, the two characters' names are written on the sides, as well as CASIS, which oversees the ISS, and the year 2016.
CASIS representative Patrick O'Neill was at SDCC, where NASA hosted a panel to discuss sending manned missions to Mars in the future. When revealing the patch, he explained that it was meant to represent the research conducted by the ISS National Laboratory during the year. Rocket and Groot were chosen because they already have a "space-based background," and therefore represent the "characteristics associated with what's happening on the space station."
CASIS also said that the Marvel heroes will be part of an "education flight contest" that will take place in October, however details on the project weren't revealed.
SOURCE: CASIS