NASA holding Mars Curiosity briefing live at 1 pm ET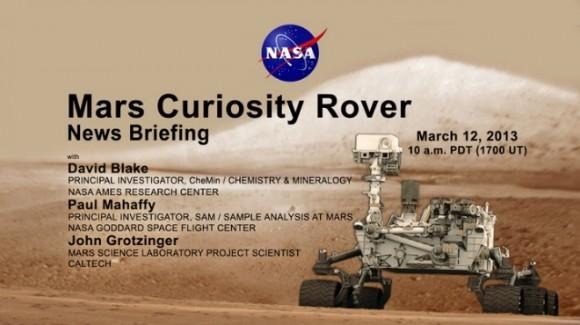 In an effort to update the general public on what's going on with the Curiosity rover on Mars, NASA will be holding a public news briefing today at 1 pm ET, and they'll be streaming it live over Ustream for all to watch. While it's a mystery as to what will be discussed, our guess is that they'll be addressing the recent malfunction with the on-board computer.
NASA tweeted the news briefing announcement today, and it'll be live in about an hour as of the time of this writing (watch it here). We'll be seeing four NASA officials at the briefing, including Michael Meyer who is the lead scientist of the Mars Exploration Program, John Grotzinger who is the Curiosity project scientist, David Blake who is the principal investigator for Curiosity's Chemistry and Mineralogy investigation, and Paul Mahaffy who is the principal investigator for Curiosity's Sample Analysis.
Based on the titles of these four gentlemen, it looks like NASA may also talk about the results from the recent hole drilling on the surface of Mars. We're not sure how big the news is or whether or not they'll be announcing some staggering results that came from the soil sample, but we'll be paying attention to see if anything good comes up from the discussion.
Since the computer malfunction on Curiosity, NASA has announced that it'll be applying a couple of software patches to the computer, which should hopefully get it back up and running to 100% status. In the meantime, NASA switched over the backup computer. While it didn't cause any major problems, NASA says that their timeline for experiments were pushed back a week.