NASA has announced its next 12 astronaut candidates: training starts in August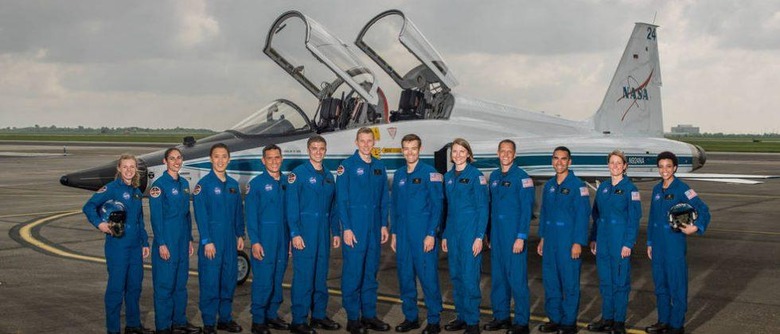 NASA opened itself up to new astronaut applications last year, and after shifting through thousands of potential candidates, the space agency has revealed the 12 individuals selected to undergo astronaut training. These people were selected from a pool of more than 18,000 people, according to NASA, which says all twelve are now among its 2017 astronaut class. Alongside the announcement, NASA as released videos introducing the whole team.
NASA has just announced its new selection, saying the dozen people chosen to undergo astronaut training are Kayla Barron, a US Navy Lt., Zena Cardman, a Penn State PhD student, Raja Chari, a Lt. Col. in the US Air Force, Matthew Dominick, a Lt. Cmdr. in the US Navy, Bob Hines, a NASA pilot, Warren Hoburg, an MIT researcher, Jonny Kim, a US Navy Seal, Robb Kulin, a SpaceX engineer, Jasmin Moghbeli, a Maj. in the USMC, Loral O'Hara with Purdue University, Frank Rubio, a US Army Major, and finally, Jessica Watkins, a Caltech postdoctoral fellow.
"You represent the pinnacle of American excellence." – Acting Administrator Lightfoot on #NewAstronauts Watch: https://t.co/mzKW5uDsTi pic.twitter.com/W0pVmPjtCr

— NASA (@NASA) June 7, 2017
NASA recently held a live broadcast of the announcement on its NASA Live website; the 2017 Astronaut Candidate Class Introduction took place with Vice President Mike Pence. If you missed that live broadcast, you can check out some snippets of the video on NASA's Twitter account or head over to this page on the NASA website, where a replay will go live starting at 6PM ET.
Meet the #NewAstronauts! Selected from 18,000+ applicants, these 12 humans are now part of our 2017 astronaut class: https://t.co/xkVcTbkXsr pic.twitter.com/3JnHIblnWq

— NASA (@NASA) June 7, 2017
The event was held at the Johnson Space Center in Houston, Texas. All 12 candidates will be returning to the center this upcoming August to start their two years of training. Where each person will end up working is not known at this time — some may end up being part of anticipated future deep space missions, while others could be tasked with performing research on the ISS and more.
Speaking about the new class, US VP Pence said:
These are 12 men and women whose personal excellence and whose personal courage will carry our nation to even greater heights of discovery and who I know will inspire our children and our grandchildren every bit as much as your forebears have done so in this storied American program.