NASA confirms first all-women spacewalk will take place in March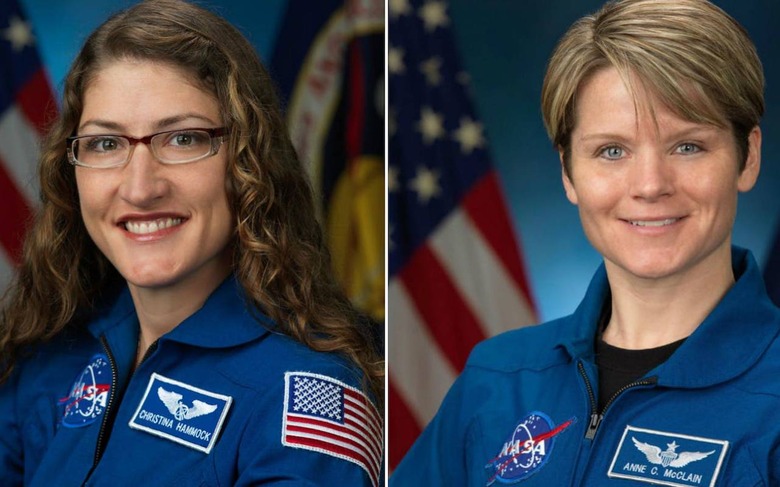 NASA revealed earlier this week that two of its astronauts currently aboard the International Space Station will make history later this month: Anne McClain and Christina Koch will conduct a spacewalk outside the station on March 29th, something that's not uncommon on its own, but this will be the first with the entire team involved made up of women.
"As currently scheduled, the March 29th spacewalk will be the first with only women," NASA spokeswoman Stephanie Schierholz told CNN. Several other women will be filling important roles, including lead flight director Mary Lawrence and lead spacewalk flight controller Jackie Kagey. Rounding out the team will be flight controller Kristen Facciol of the Canadian Space Agency, who will be working from NASA's Johnson Space Center in Houston.
I just found out that I'll be on console providing support for the FIRST ALL FEMALE SPACEWALK with @AstroAnnimal and @Astro_Christina and I can not contain my excitement!!!! #WomenInSTEM #WomenInEngineering #WomenInSpace

— Kristen Facciol (@kfacciol) March 1, 2019
The pair of astronauts will be making upgrades to the ISS's batteries during their spacewalk. These trips outside the station, which usually last several hours, are often used for research and science needs, or to test new equipment, along with repair and maintenance work to the station itself.
This marks roughly 35 years since Russian cosmonaut Svetlana Savitskaya made history on July 25th, 1984, when she became the first woman to take part in a spacewalk. Also fitting is that McClain and Koch trip outside the ISS is taking place during Women's History Month. NASA says this wasn't intentional, however, as the spacewalk was originally scheduled for the fall, and it was just chance that the current ISS crew resulted in the match-up.