NASA astronaut Christina Koch and crewmates return to Earth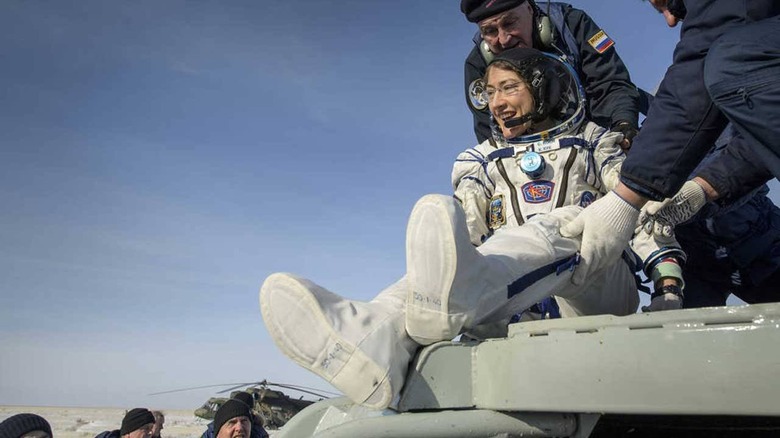 NASA astronaut Christina Koch returned to Earth this week after setting a record for the longest single spaceflight in history by a woman. Koch and crewmates Alexander Skvortsov and Luca Parmitano all returned to Earth aboard a Soyuz MS-13 capsule. The crew members left the ISS at 12:50 a.m. EST and made a safe, parachute-assisted landing at 4:12 a.m. southeast of the remote town of Dzhezkazgan, Kazakhstan.Koch's extended mission allows researchers to observe the effects of long-duration spaceflight on a woman. This is important as NASA plans to return humans to the moon in the coming years with its Artemis program. NASA is also gearing up for human exploration of Mars.
Koch launched to the ISS on March 14, 2019, with NASA astronaut Nick Hague and a Russian cosmonaut Alexey Ovchinin. She was aboard the ISS for 328 days, and while the longest mission in space for a woman, she has the record for the second-longest spaceflight by a U.S. astronaut and seventh on the list for cumulative time in space for Americans with one or more missions.
Koch completed 5,248 orbits of the Earth and traveled about 139 million miles. During her 11 months on the space station, she conducted six spacewalks, including the first three all-woman spacewalks. She spent a total of 42 hours and 15 minutes outside the station.
Parmitano and Skvortsov each completed 201 days in space. The duo launched last year with Andrew Morgan in July. Morgan is part of an extended mission on the ISS and will return to Earth on April 17. This was the end of the second mission in space for Parmitano, who has 367 days in space, more than any ESA astronaut. He conducted four spacewalks on this mission and has over 33 hours outside the ISS.